Last Night in Fredericksburg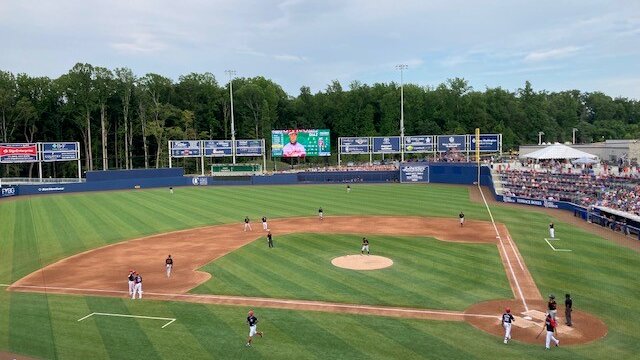 There's an old saying that a player that makes a terrific play on defense always seems to come up in the next half-inning. While it wasn't the last-out/first-batter variety, Jake Randa nonetheless starred in both the field and at the plate as Fredericksburg rallied from a 1-0 deficit with two in the bottom of the 8th for a 2-1 win over Delmarva.
That this would turn out to be a pitcher's duel seemed highly unlikely, as both starting pitchers were sporting ERAs in the neighborhood of 5.00 – 4.71 for the F-Nats' Michael Cuevas, 5.21 for the Shorebirds' Griffin McLarty.
But after Viandel Peña's leadoff double went to waste in the 1st while Cristopher Cespedes's leadoff HR in the 2nd gave Delmarva the early lead, it looked like might be another long night where things didn't quite go right. Indeed, Fredericksburg would leave two on in the 2nd, one in each of the 3rd and 4th innings, and another pair of baserunners in the 5th.
While the F-Nats hitters couldn't take advantage of McLarty's control issues (4BB through the first four innings), their counterparts were stifled by Cuevas, who didn't allow another hit until two out in the 6th while retiring 13 of 15 batters. The 20-y.o. Texan would strike out six in six innings while notching his second consecutive quality start.
Troy Stainbrook came on in the 7th and faced the minimum when Geraldi Diaz caught Trevor Kehe, who had walked with two outs, to end the inning.
Meanwhile, Fredericksburg wasted another leadoff double (Jeremy De La Rosa, who made a nifty slide to beat a throw that appeared to have gotten him) in the 7th, though credit where credit is due: Delmarva reliever Jonathan Pendergrast pounced on a would-be sacrifice by Zach Cornell to nail De La Rosa easily at 3rd.
In the 8th, Randa came down with a ball that may have actually hit off the wall* – Delmarva manager Dave Anderson thought so, too, and expressed his displeasure with the umpires, which earned him an early pass to the visitor's clubhouse. Thus, the might-have-been one-out double was out #2 en route to Stainbrooks's second goose egg.
* Think about how subdued the crowd was for my 50-year-old ears to have been able to hear what was either a carom or Randa banging off the wall from the press box
A half-inning later, Randa was the hero again as he drove home Junior Martina with a triple to the left-center gap to tie the game, then came home on, of all things, a balk as Shorebirds reliever twisted his torso while shaking off his catcher, with BOTH umpires pointing in unison at the – sorry to get technical here – no-no.
Amos Willingham took over from Stainbrook in the 9th and worked around a one-out double, issuing an intentional walk with two outs before getting a flyball to center to nail down the F-Nats' 14th win at home and 26th win overall for the 2021 campaign. It was his second save.
The six-game series concludes tonight with a matchup between Carlos Romero (2-3, 5.40) vs. Jake Lyons (2-1, 3.48).