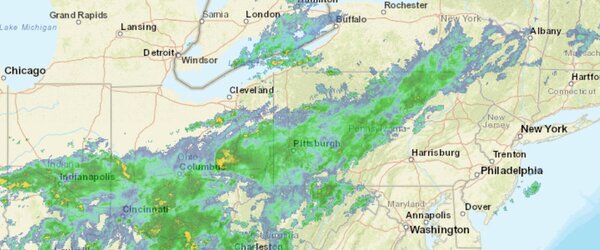 Team
Yesterday
Today
Pitching Probables
Rochester
Postponed
@ Syracuse, 5:05 p.m.
Rogers (3-4, 5.63) and Sharp (2-1, 2.97) vs.
J. Reyes (0-5, 6.54) and Stock (0-3, 3.86)
Harrisburg
Postponed
vs. Somerset, 5:00 p.m.
Cavalli (0-1, 3.09) and Sanchez (1-4, 3.55) vs.
Waldichuk (1-0, 4.50) and Sears (3-0, 2.37)
Wilmington
Lost, 13-3
vs. Rome, 7:05 p.m.
A. Hernández (2-2, 3.31) vs. Vines (2-1, 2.20)
Fredericksburg
Lost, 9-7
vs. Salem, 7:05 p.m.
Seijas (1-6, 5.63) vs. Wu-Yelland (0-2, 3.26)
FCL Nationals
OFF DAY
@ FCL Marlins, 12:00 p.m.
Rochester vs. Syracuse – PPD
Rain spoiled Game Two of the Rochester-Syracuse series, the third postponement of the season for the Red Wings. They've scheduled a doubleheader to make it up tonight, but rain is in the forecast.
Somerset vs. Harrisburg – PPD
It's the same story (postponement, doubleheader) for the Senators, but as you can see from this morning's radar (image above), the rains on the way might make the field unplayable.
Rome 13 Wilmington 3
• Peguero (L, 1-3) 3IP, 3H, R, ER, 0BB, 1K
• Bocko 1IP, 0H, 0R, 0BB, 1K, WP
• Rhinesmith 2-4, R, 2B, RBI
• Mendoza 1-3, BB, RBI, E(4)
Rome's batters had their way with the Wilmington bullpen for a 13-3 smackdown and the Blue Rocks' ninth loss in eleven games. Francys Peguero went the first three innings, allowing a run on three hits while striking out one, but suffered the loss. The trio of Amos Willingham, Kyle Hinton, and Malvin Peña combined for 12 runs given up over the 5th through the 7th innings to put the game out of reach. Wilmington rallied for three runs in the 7th with the help of an error to prevent the shutout but collected just five hits total.
Salem 9 Fredericksburg 7
• Parker (L, 3-6) 5IP, 8H, 6R, 5ER, BB, 5K, 3HR
• Méndez 4-5, R, 2B
• Ydens 3-5, R, 3RBI
• Vega 2-3, 2R, BB, HR, 3RBI, HBP
Mitchell Parker dropped his third straight decision while Bryan Peña made his 11th straight "dirty" outing. The offense tried to clean up the mess but came up two runs short for a 9-7 loss. Parker was lit up for three HRs—also the third straight appearance with at least one longball—and eight hits total as he allowed six runs over five innings. He walked one and struck out five. Peña dug the hole deeper with three runs let in over the last four innings but allowed only one HR (ninth overall). He walked three and fanned four to maintain his BB/9 of 6.1 and slightly improve his K/9 to 8.6. Onix Vega got his first career homer and the Homer Simpson RBI as the F-Nats marched to a 12-hit parade, led by Ricardo Méndez with three singles and a double.
FCL Nationals – OFF DAY
Off days are now semi-random in the new FCL East. This will take some getting used to.