Last Night in Fredericksburg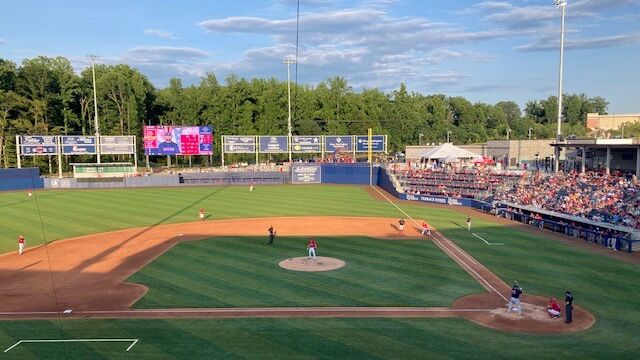 Salem jumped on Fredericksburg starter Rodney Theophile for three runs on five hits in the 1st inning. It just didn't get much better for the F-Nats as they suffered their first loss in July, 9-2 to the Red Sox on an otherwise picturesque Saturday night.
Theophile would recover from that disastrous first frame with a 1-2-3 second and a highlight-reel catch by Jake Randa in the 3rd. Randa would extend his team lead in RBI to 21 with a two-out RBI single, plating Braian Fernández who had led off the inning with the first of his two singles on the night, then stole second.
The defense let Theophile down with an error on a routine groundball to second base, the 7th for Kevin Strohschein, and 83rd in 53 games for Fredericksburg, which is second-to-last in fielding and errors committed in the Low-A East. That led to three more unearned runs, "thanks" to back-to-back two-out singles off Theophile and the first man out of the 'pen Matt Merrill.
Aside from a wild pitch and the aforementioned single that let in an inherited runner, Merrill was dominant – consistently hitting 94-95 on the gun and touching 99 mph and striking out three over two and 1/3rd innings.
"OT" Turner, the second Fredericksburg reliever, lived up to his Nuke LaLoosh reputation by throwing hard and wild. He walked five of nine batters faced, threw two wild pitches, and struck out two. He would be charged with two runs as Tomás Alastre allowed two of three runners he inherited to score and dug the Nats into a 9-1 hole after 7½ innings.
The F-Nats got one back in the 8th as Fernández got his second safety, moved up on a wild pitch, and came around to score on José Sánchez's second hit in as many AB's after pinch-hitting for Junior Martina in the 6th. They threatened to get a couple of runs for pride in the 9th but left on the sixth and seventh runners of the night while making a pair of outs with runners on first and second.
The two teams will rematch tomorrow afternoon at 4:05 p.m. with Fredericksburg hoping to earn a split of the six-game series. They'll send Carlos Romero (0-1, 13.50) out for his third turn in the rotation, opposed by Bradley Blalock (0-3, 4.44) for Salem.