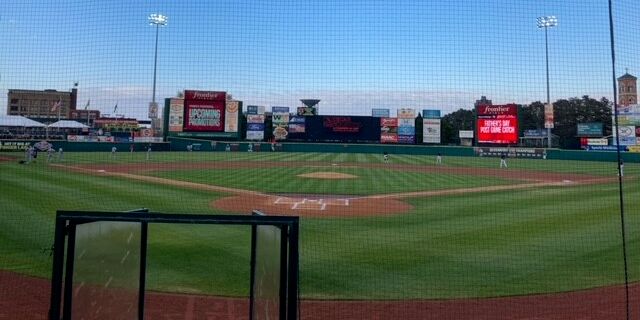 Some nights are easier than others to find the peg and hang a story from it. A big night by one of the players, whether he's a pitcher or a position player.
By that definition, there was… Buffalo's Zach Logue, a 9th Rd. pick out of the Univ. of Kentucky in 2017, was making his AAA debut. He was perfect for four and 2/3rds innings before a 27-y.o. journeyman (Humberto Arteaga) steered a grounder just past the second baseman for a single.
It would be a blip, as the 25-y.o. finished with seven scoreless innings and eight strikeouts on 81 pitches to 22 batters, just one more than the minimum.
Josh Rogers, who the Nats picked up as a free agent two weeks ago, was almost as good for two and 1/3rd innings. But then he allowed three doubles in the space of five batters with a walk and a whiff sandwiched in between to give up three runs.
The next inning, he allowed a one-out single and got a groundball to short that Arteaga and company couldn't turn fast enough to get out of the inning. Dilson Herrera deposited one off the CF backdrop for a two-run blast that put the Bisons up, 5-0.
While the crowd was unhappy about it, manager Matt LeCroy left Rogers in to eat some innings and save the bullpen, which had thrown 14⅓ to 17 innings (depending on whether Sean Nolin is returning to the rotation) the past three nights. Rogers, to his credit, ate what he could and went five and 2/3rds and threw 108 pitches. He took the loss with all five runs on six hits and a walk while fanning seven.
Rochester would not get another baserunner until the bottom of the 9th when Cody Wilson drew a one-out walk. Defensive indifference—Wilson taking second without a throw with two outs—would be the lone Red Wing to reach second.
The two teams will rematch tonight for game five of the series. Sterling Sharp (1-1, 3.05) takes the hill for Rochester, opposed by Anthony Kay (0-2, 9.95).