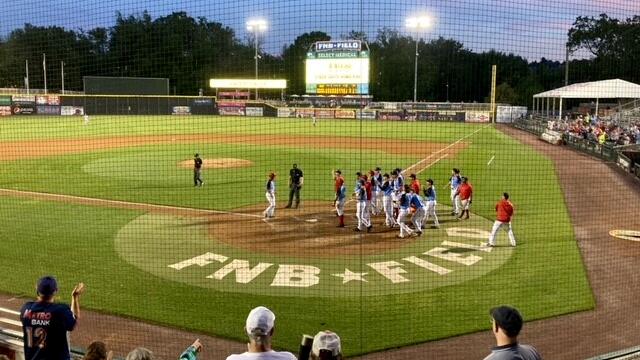 The prospect of a tenth shutout in just 40 games loomed large after Harrisburg held a Star Trek Convention on the FNB field scoreboard for the first six innings (that's nothing but zeroes, folks).
The Senators had but one hit—a Corban Jospeh double in the 1st—but longtime Nationals farmhand Mario Sanchez had held the Fightins to three and fanned seven and hadn't until given up a walk.
Until the 7th, that is. He got ahead 1-2 and lost the leadoff batter. That hurt even more as Reading catcher Rodolfo Durán jacked one into the (sponsor deleted) cheap seats in LF to give the Fightins a 2-0 lead.
Harrisburg managed to get one back in its half of the 7th without getting a hit, natch, as Jakson Reetz got hit by a pitch and reached third on back-to-back walks by Aldrem Corredor and Rhett Wiseman. The Sens catcher rumbled home on a Nick Banks grounder to second that Reading couldn't convert into two outs.
The Sens got the second one back in the bottom of the 8th when Cole Freeman reached on an error, took second on a walk by Ali Castillo, and scored on Corban Joseph's second hit of the night. They nearly gave it right back on a similar sequence (error, walk) in the top of the 9th but Jhon Romero got the three outs to preserve the tie.
Harrisburg got the winning run on in the 9th but not into scoring position as a strikeout and a double play erased Wiseman's single and sent it into extras.
(The law firm of) Pearson McMahan came on in the 10th and got two quick outs before Reading's Bryson Stott ripped a shot to the 3/4 hole that Corredor smothered but couldn't get the ball out of his glove. He tossed it to McMahan covering on a bang-bang play that the ump called safe. The free runner took advantage of the confusion and scored from second without a throw home.
Down 3-2, Jecksson Flores led off the 10th with a flyball to the RF corner that looked like it might do one of two things: curl over the wall for a home run, or go foul. Flores didn't run the ball out, so he only ended up with a single. But the free runner did make the dash home and made it to the game at 3-3 on a close play.
The debate on Flores's baserunning gaffe was not for long as the very next batter, Cole Freeman, smashed his fourth HR to give the Senators a 5-3 win.
Harrisburg and Reading conclude the series this afternoon, with Carson Teel (1-3, 6.13) taking the hill against James McArthur (0-3, 6.53).