Last Night in Fredericksburg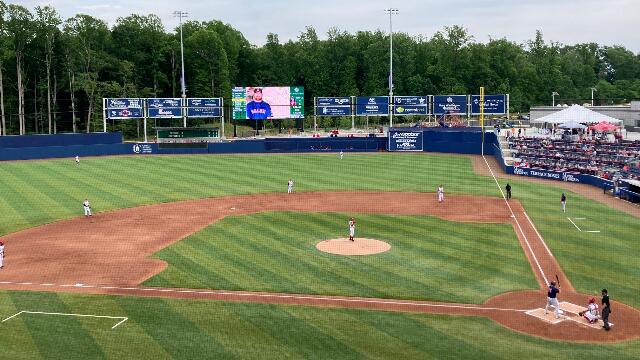 No offense, but the F-Nats just don't have very much offense.
Add in a(nother) shaky outing by the first man out of the bullpen, and some porous catching, and you have the recipe for another loss: 4-1 to Salem – the 16th in 17 games for Fredericksburg.
For five innings though, there was the tease that Hernández just might be able to do what Karlo Seijas did the night before and shut down the Salem offense for a second straight night. The problem was that he wasn't as efficient. Hernández needed 73 pitches to get 15 outs whereas Seijas got 21 on 80 pitches.
That's a lot to ask of a pitcher or a pitching staff, to throw a shutout or allow only one run. But it seems to be the problem at every level of the Nationals farm system.
That brings us back to the Fredericksburg offense. Or the lack thereof.
The F-Nats managed just six hits, all singles. They drew just one walk and had just nine baserunners total, the other two coming on a hit-by-pitch and an error. That's one run out of nine chances, 1-for-8 once those baserunners reached second and/or third base (a.k.a. scoring position).
The loss came in the 6th when Pedro González loaded the bases with two walks and a hit and unloaded them with the "help" of Allan Berríos, who looked like an infielder who'd been told to suit up behind the plate for the first time since high school. Berríos couldn't corral two wild pitches from González—one of which may have been called a passed ball without the assistance of replay—then let one go by for his fourth passed ball in just 26 innings behind the plate.
González would lose for the fourth time in as many appearances, inflating his ERA to 12.91 and his WHIP to 2.61. He would also be charged with a blown save for losing the 1-0 lead.
Hernández would get the no-decision despite a strong five innings pitched with four hits allowed – three of which came in the 2nd, as he pitched around the bases-loaded-one-out threat with back-to-back strikeouts. He would finish with four hits allowed total, one walk, and six strikeouts.
Jordan Bocko (2⅓ IP) got a critical K to get out of the 6th but fell victim to bad defense in the 7th as J.T. Arruda juggled a slow roller and Berríos double-clutched on a stolen base attempt to set up Salem's Joe Davis to drive in the fourth and final run.
Bocko worked around a hit in the 8th while Leif Strom set the side down in order in the top of the 9th to keep the team within striking distance.
For a brief moment, after Kevin Strohschein's leadoff single and Jake Randa's one-out walk, that seemed almost possible. But a flyout to center by Jeremy Ydens and a strikeout by Braian Fernández put those thoughts (and the game) to rest.
The two teams meet for the series finale this afternoon. Bryan Peña (0-0, 6.00) will make his first start after four relief outings, opposed by Ryan Zeferjahn (0-2, 9.64) for the Red Sox.