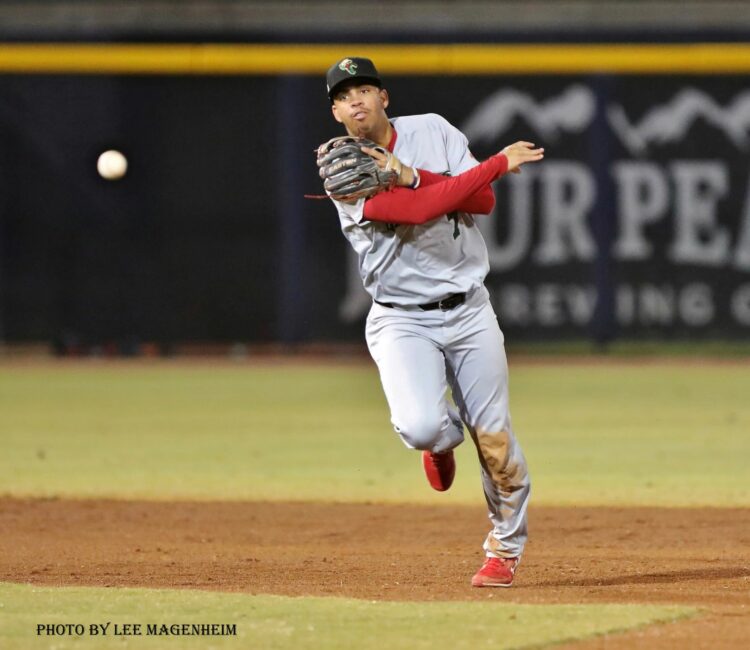 Injuries continue to ravage the Nationals, as a broken wrist by Starlin Casto opened the door for Washington's No. 2 prospect Luis Garcia.
The 20-y.o. becomes the second prospect and the third notable minor-leaguer to be added to the 28-man roster, joining Seth Romero yesterday and Dakota Bacus earlier today.
Bacus, who was acquired in a 2013 trade with… wait for it… Oakland, made his MLB debut in the continuation of last Sunday's game. He pitched two perfect innings with 14 strikes on 19 pitches and one whiff.
Garcia was listed in the lineup for tonight's game that is in a rain delay as this story went to the virtual press. He spent all of 2019 at AA Harrisburg with a modest line of .257/.280/.337 with just four HR and 11 stolen bases, but improved to .276/.345/.382 in 20 Arizona Fall League games (pictured above).
Going into 2020, the wonder was whether the Nats would have Garcia repeat AA or promote him to AAA, which seemed dependent on how Carter Kieboom would fare in Spring Training, which was interrupted by the current pandemic in mid-March.
It's also worth noting that between the uncertain fate of the minors beyond 2020 as well as the looming battle with the MLBPA in 2021, the usual caution that might have otherwise precluded all three of these moves has been abandoned. It would also appear that with GM Mike Rizzo's uncertain contract status, the short-term considerations appear to be more important than the potential service-time problems this may cause.