From the Archives: August 24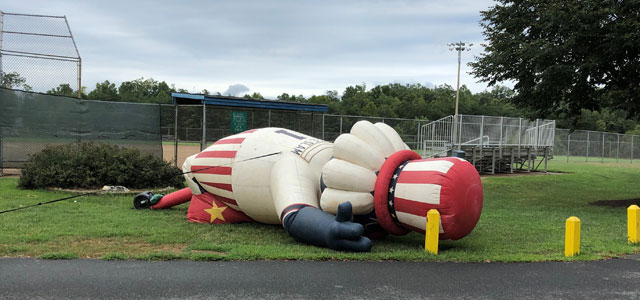 Wil Crowe became the latest prospect to make his MLB debut, thanks in no small part to the pandemic, joining Seth Romero, Luis Garcia, and journeymen Dakota Bacus and Kyle Finnegan. Unfortunately, the almost-26-y.o. Crowe also got the call because Stephen Strasburg succumbed to injury—*Forrest Gump pause*—again. Back again we go, to when things made much more sense…
Syracuse 4 Pawtucket 2 – 2011
• Peacock (W, 4-1) 5IP, 4H, 2R, 2ER, 2BB, 3K
• Mock 2⅓ IP, 0H, 0R, 0BB, 2K
• Lombardozzi 2-3, R, BB, 2SB
• Antonelli 0-2, R, 3BB, SB
Tug Hulett's 2RBI single in the 6th broke a 2-2 tie as the Chiefs downed the PawSox, 4-2. Brad Peacock got his 4th AAA win, allowing both Pawtucket runs on four hits and two walks. Steve Lombardozzi led the nine-hit offense with a 2-for-3 night, stealing two bases. Garrett Mock, Atahualpa Severino, and Josh Wilkie combined for four solid innings of relief. The win improved Syracuse to 59-68, 12½ games off the pace. The Chiefs would finish 4th in 2011, 14 games behind. From 2010-2018, Syracuse finished first once (2014), second once (2010), fourth twice (2011, 2015), fifth twice (2012, 2018), and last three times (2013, 2016, 2017)
Harrisburg 6 Akron 3 – 2017
• McGowin (W, 1-5) 6⅔ IP, 7H, 2R, 2ER, BB, 7K, HR
• Crownover (SV, 1) 1⅓ IP, 1H, 0R, 0BB, 1K, 3-0 IR-S
• Marmolejos 3-5, 2R, 2B, 2RBI
• Norfork 3-5, 2R, 2B
• Read 2-5, 2-2B, 3RBI, SB
The Sens rallied for two in the 6th to tie, and three in the 7th to take the lead as they doubled up the 'Ducks, 6-3 in the series finale. Kyle McGowin won his first AA game with a quality start of two runs on seven hits and a walk over six and 2/3rds innings. Matt Crownover got his first save by getting the final out in the 8th (leaving the bases loaded) and working around a leadoff single in the 9th. Khayyan Norfork and Jose "Orange" Marmolejos both went 3-for-5 with a double and two runs scored to lead the Harrisburg hitters.
Winston-Salem 9 Potomac 4 (10 inn.) – 2019
• M. Peña 5IP, 3H, R, ER, 0BB, 4K, HR
• Howell (BS, 1) 1IP, 3H, 3R, 2ER, BB, 2K
• Tapani (L, 0-3) 2IP, 4H, 5R, 3ER, BB, 3K
• Freeman 3-5, R, 2R
• Abreu 2-5, R, 2B
It was a deflating loss Last Night in Woodbridge.
Hagerstown 7 Hickory 2 – 2014
• Dickey (W, 1-0) 5IP, 4H, 0R, 0BB, 3K
• Thomas (SV, 4) 2⅔ IP, 1H, 0R, BB, 2K, 3-1 IR-S
• Masters 2-3, R, BB, 2RBI
• Dent 2-4, R, 2B, RBI
• W. Rodriguez 2-4, 2R, SB
Robbie Dickey spun five scoreless innings to win his Low-A debut as the Suns boiled the Crawdads, 7-2. The 20-y.o. Texan struck out three, walked none, and allowed four hits. Justin Thomas let in one of three inherited runners in the 7th but got the last eight outs for his fourth save. Hagerstown racked up ten hits, with David Masters, Cody Dent, and Wilman Rodriguez each collecting two while Narciso Mesa clubbed his third HR. The Greensboro Grasshoppers won to keep pace, but the magic number for the Suns to clinch the second-half title was reduced to seven. After blowing a huge lead in the first half, the Suns would take the second-half title and win 87 games total. Hagerstown swept Greensboro in the first round, but fell to Asheville in five games for the Sally League championship.
Vermont 2 Lowell 1 – 2010
• Jordan (ND) 6IP 3H 1R 1ER 2BB 2K 1HR
• Holland (SV, 3) 1⅓ IP 0H 0R 1BB 3K
• Jimenez 2-4
• Moore, OF assist at HP
Single runs in the first and eighth innings were enough to support some outstanding pitching as the Vermont Lake Monsters won 2-1 in Lowell. Taylor Jordan posted his first quality start with one run allowed on three hits and two walks over six innings, while Ryan Demmin got the win in relief with 1⅔ scoreless innings. Neil Holland struck out three of the six batters he faced over the last 1⅓ innings to register the save, his third of the season.