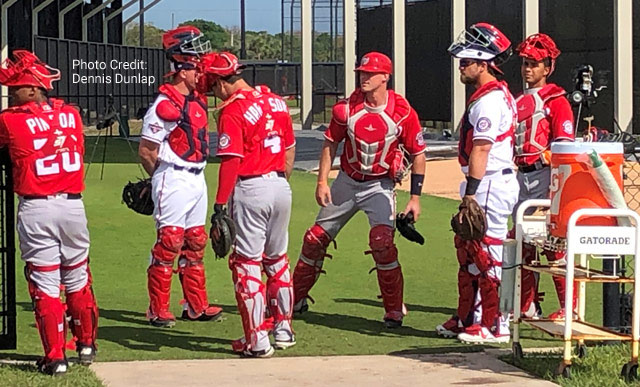 The Marlins harpooned Nats middle relievers for seven runs across the 5th, 6th, and 7th innings for a 7-3 Miami win vs. Washington.
The good news is that Aníbal Sánchez spun four scoreless innings with a single hit allowed, no walks, and three whiffs. Hunter Strickland (3H, 2R), James Bourque (2H, 2R), and Austen Williams (1H, 3R, 2BB), combined to allow all seven runs on six hits (two HRs) and two walks over two and 2/3rds innings.
The blown-save-loss went to Bourque.
Jake Noll got the start at 1B and contributed two of the three Nats runs with a single in the 4th. Yadiel Hernandez, the first LF of the night, scored one of those runs with a one-out walk.
Other notable minor-leaguers to appear:
Carter Kieboom came off the bench to paly 3B and went 0-for-2
Raudy Read subbed for Kurt Suzuki at C and struck out in his sole PA
Luis Garcia took over SS from Wilmer Difo and flew out in the 8th
Drew Ward was the second DH and fanned for the 8th time in 10G
Cody Wilson followed Andrew Stevenson in CF and grounded out to lead off the 9th
The loss was Washington's eighth of the spring and the ninth time the Nats failed to scored to four or more runs. Sources tell me this is not good.
Today is a split squad day, with these two teams rematching in West Palm Beach, and another contingent headed to Port St. Lucie to take on the Mets. The home game will be broadcast on 1580AM while the Mets game will be available via MLB.tv and MLB audio.