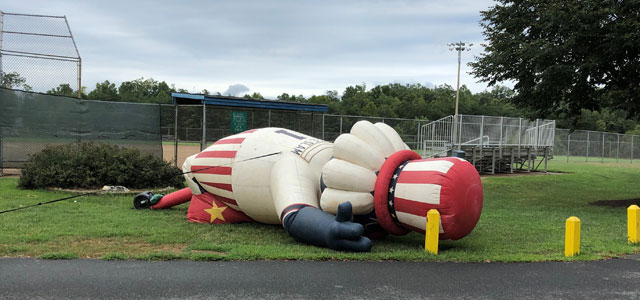 After rallying with two outs in the 9th to tie the game at 4-4, the P-Nats were deflated with a five-run top of the 10th to lose a game they could have won, 9-4.
It had rained for much of the day, but the field at the Pfitz [sorry kids, no free advertising], which had been replaced with one that actually drains a few seasons ago, worked as designed and the game started on time to the delight relief of the diehards who have weathered this final season in Woodbridge.
After foregoing a National Anthem on a microphone that works as well as the DC Metro in favor of a recording over a PA system set to Grandpa Simpson, the game started out strongly for Potomac with a 1-2-3 top of the 1st with three straight 6-3 groundouts in the top of the first and a two-out, two-run double from Jakson Reetz in the bottom half for an early 2-0 lead.
Malvin Peña, who has been mostly off this season with 19HRs allowed; most in the Carolina League, was on for the most part. He was perfect through three, had a one-hitter through four and though he gave up #20 in the 5th, finished with five innings of one-run ball on three hits and no walks and four strikeouts.
Instead of going out for a sixth inning, the plug was pulled on Peña after 70 pitches (43 strikes). The painful reminder that winning takes a back seat to development came as the Dash did just what you'd expect from someone with less than four innings experience in the League (Jacob Howell), piling on three runs to take a 4-2 lead.
Peña's counterpart, Konnor Pilkington, also settled down after the first and retired 13 straight before Cole Freeman led off the 6th with the second of his three hits on the night. He would come around to score with the help of an error that sent him to third instead of being erased on a 6-4-3 DP off the bat of K.J. Harrison, who wound up on second base. Austin Davidson grounded to short to send in Freeman and make 4-3 after six full.
Gabe Klobosits came on in the 7th as did Wyatt Burns for Winston-Salem. Both pitchers threw two scoreless innings.
Ryan Tapani defied expectations by throwing a 1-2-3 ninth to give the offense a chance to tie it (or win it). Osvaldo Abreu singled with one out. Jack Sundberg and Cole Freeman singled with two out, the latter beating out a Willie Mays Hayes "oops" down the third base line to bring up Ryan Zimmerman, making his 78th rehab appearance (give or take) over the last decade or so.
Zimmerman, who had walked to load the bases in the 1st, drew another one with two out in the 9th to tie the game at 3-3. Pinch-hitter Aldrem Corredor, the Carolina League in RBI (tied), couldn't deliver #80 and instead struck out to send into extras.
Tapani came out in the 10th and met expectations as he let in the free runner on a double on his very first pitch. He would give up five runs total on five hits and a walk to lose for the third time in seven appearances. Potomac would load the bases with one out but push across none as Osvaldo Abreu and Gilbert Lara both struck out to end the game.
The loss dropped the P-Nats to two games behind Salem, which had its game with Myrtle Beach suspended after 10 full innings and tied at 4-4. Meanwhile the Blue Rocks are now just a 1/2 game behind the Red Sox. Potomac must win the division or finish second to Wilmington to make the playoffs.
Tonight, they'll send Carson Teel (6-3, 3.46) against Jonathan Stiever (6-3, 2.44) in an effort to stop its current two-game slide.