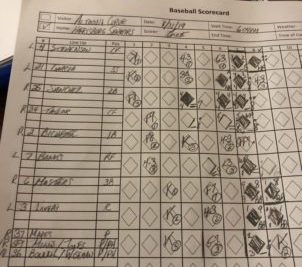 Believe it or not, midway through this one it looked like Harrisburg was done.
Altoona's Domingo Robles was perfect through three and 2/3rds and led 3-0. But with the proper jinxing, which the (on) crack social media team for Altoona couldn't figure out, Adrian Sanchez broke up the perfect game with a two-out double and Michael Taylor ended the shutout with an RBI single to cut the deficit to 3-1 after four innings.
Unfortunately, Tyler Mapes didn't get a lift from the rally and instead gave back the run plus another and was chased in the 5th. He would finish with a line of five runs (four earned) on six hits over four and a 1/3rd innings. He struck out four and walked three.
The Sens would get two back in the 6th with Luis Garcia's 4th HR and Sanchez and Taylor teaming up again but in reverse with a single and a double to cut it down to a 5-3 lead.
An inning later, David Masters and Jake Lowery would draw back-to-back walks to bring up pinch-hitter Rhett Wiseman, who delivered an RBI single to cut it to 5-4. Andrew Stevenson turned a sacrifice into a bunt hit to reload the bases.
And then the rout began.
Four of the next five would hit safely and drive in five to take a 10-5 lead before Masters and Lowery drew another two walks. Wiseman, batting again as the pinch-hitter, struck out for the second out (the first had been a sacrifice fly). But Stevenson smacked a grand slam to put this game well out of reach at 14-5. It was his first as a Senator this season.
Altoona then emptied the bench and sent in 1B Jerrick Suiter to mop up. He would end up retiring four straight, beginning with Garcia to end the 7th inning.
The 11-run rally made a winner out of Bryan Bonnell, who worked around two singles in the 6th and 7th innings for two goose eggs with no walks and two K's.
Greg Holland worked a scoreless 8th while Aaron Barrett got knocked for two runs in the 9th to make it a final score of Harrisburg 14, Altoona 7.
The series continues on Sunday afternoon with Mario Sanchez (9-5, 3.04) taking the hill for Harrisburg, oppose by Altoona's Pedro Vasquez (8-4, 2.79).