A Peek at Jackson Rutledge
Not quite "Last Night in Hagerstown" as the rain stopped the game in the 7th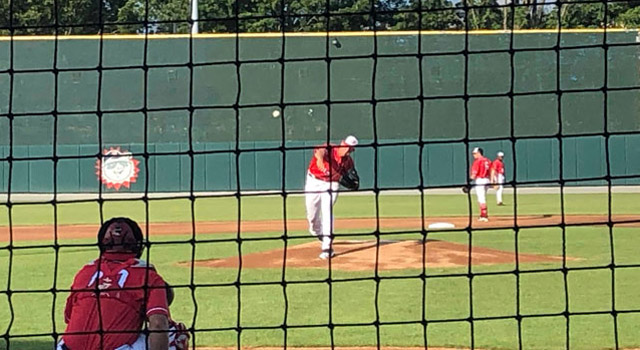 In his Sally Lg. debut last week against the Columbia Fireflies, Jackson Rutledge got roughed for four runs and didn't make it out of the 4th. Last night, he made his second start (first at home) against the same lineup and fared much better – two runs (one earned) on one hit and two walks and five full innings. With a more competent CF, he might have gotten away with just one run.
To appease the velo whores, Rutledge was sitting 95-96 and touched 97. But for the non-MASN commenters, the thing that matters more is the late movement which, when he was able to throw it where he appeared to be aiming, was quite effective.
Rutledge started strong, sandwiching two flyouts around a strikeout in the 1st but rain into trouble in the 2nd. The first walk came on four pitches, none of them terribly close. After a first-pitch popup, he walked a second batter, though this time he got the count full.
With runners on first and second, Columbia's Hayden Senger stroked a clean single to Armond Upshaw, who did not field it cleanly, enabling the first runner to score from second and the trail runner to make it to 3rd. A roller to short plated the second run, hit too slow for the Suns to turn two.
Rutledge would get the #9 batter to tap back to him and to finish the 2nd and then went into cruise control, retiring the side in the 3rd on three groundballs, a flyout and two groundouts in the 4th, and a flyout, strikeout (#2), and the eighth ground ball out in the 5th.
He was lifted after 62 pitches and with Chris "Chevy" Vann warming up during the bottom of the 5th, that the Suns had tied it was probably just coincidence. The guess here is that Rutledge will be kept on a very short leash (metaphorically speaking, as he is legitimately 6'8″ and 250 lbs) pitching probably no more than 70 tosses with no less than five days rest this season.
There's much to like here but there's room for improvement. I only saw one Columbia batter legitimately fooled on a breaking pitch, and he was clearly hunting for a first-pitch fastball. The command was spotty and I didn't see much of the ballyhooed slider. A more patient lineup might have given him more trouble, which we won't know until he faces a second or third Sally League team.