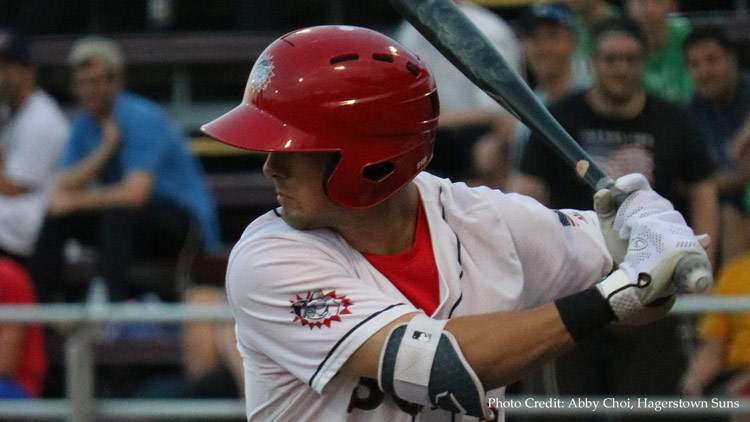 | | | | |
| --- | --- | --- | --- |
| Team | Yesterday | Today | Pitching Matchup |
| Fresno | Lost, 6-2 | @ Albuquerque, 8:35 p.m. | Ross (2-2, 4.64) vs. Melville (6-4, 5.29) |
| Harrisburg | Lost, 4-2 | @ Bowie, 7:05 p.m. | TBD vs. Baumann (1-1, 0.50) |
| Potomac | Won, 3-0 | OFF DAY | N/A |
| Hagerstown | Won, 6-5 (10 inn.) | @ Greensboro, 7:05 p.m. | Peguero (2-7, 2.60) vs. Nova (3-2, 5.01) |
| Auburn | Won, 4-3 | OFF DAY | N/A |
| GCL Nationals | Lost, 7-3 | vs. GCL Marlins, 12:00 p.m. | |
Albuquerque 6 Fresno 2
• Hoover (L, 3-3) 5IP, 6H, 5R, 4ER, BB, 2K, HR
• Guilbeau 1⅓ IP, 1H, 0R, 0BB, 2K
• Keller 2-3, SF, RBI
• Gushue 2-3, BB
• C. Taylor 2-4, 2B
Albuquerque did what every one else in the PCL has done against J.J. Hoover: scored early and often, building a 5-0 lead after three and cruising to a 6-2 win over Fresno in the opener. Hoover failed to go six innings for the sixth time in seven starts but lost for only the third time despite an ERA of 7.09 as a starter (7.41 overall). The Grizzlies racked up 11 hits, with Alex Keller, Taylor Gushue, Chuck Taylor, and José "Orange" Marmolejos each collecting two.
Bowie 4 Harrisburg 2
• Condra-Bogan (L, 4-4) 3IP, 5H, 2R, 2ER, 2BB, 2K, 0HR
• A. Lee 3IP, 4H, 2R, 2ER, 0BB, 0K, 0HR
• Bichette 2-4, R
• Banks 1-4, R, 2B
The BaySox continued their domination of the Senators as they doubled 'em up, 4-2 for their seventh win in their last eight meetings. Jacob Condra-Bogan was the opener and took the loss, his fourth, with the first two runs let in on five hits and two walks over three innings. Andrew Lee followed but was roughly the same: two runs on four hits and neither a walk nor a whiff over three innings. Justin Miller and Kyle Barraclough both turned in a goose egg in rehab. Harrisburg's offense was limited to six hits and no walks, with Dante Bichette Jr. the sole batter to reach base twice.
Potomac 3 Fayetteville 0
• Cate (W, 2-2) 6IP, 3H, 0R, BB, 5K
• Fletcher (H, 2) 2IP, 0H, 0R, 3BB, 1K, WP
• Bartow (SV, 3) 1IP, 0H, 0R, 0BB, 0K
• Freeman 2-4, 2R, 3B, 2SB (24, 25)
• Mejia 2-4
Three Potomac pitchers combined to shut out Fayetteville, 3-0 on three hits to split the four-game series. Tim Cate improved to 2-1 with 0.47 ERA in the month of July (3GS) as he gave up all three Woodpecker hits over six innings. He walked one and struck out five. Aaron Fletcher turned in two scoreless innings, though he Cordero'd through the 7th with two walks (one intentional) and a wild pitch before working around a third walk in the 8th. Frankie Bartow mowed 'em down in the 9th in order for this third save. Cole Freeman, the reigning Carolina Batter of the Week, led the P-Nats attack with a single, triple, two runs scored, and two stolen bases – including home with Jack Sundberg on a double steal for the first run of the game.
Hagerstown 6 Greensboro 5 (10 inn.)
• Stoeckinger 5⅓ IP, 5H, 4R, 4ER, 0BB, 2K, HR
• Tapani (BS, 4; W, 5-5; ) 4⅔ IP, 5H, R, ER, BB, 4K, 3-3 IR-S
• Upshaw 2-4, R, HR, RBI, CS, OF assist at 2B
• Cluff 2-5, R, HR, 2RBI
• Mendoza 2-5, 2B
The Suns blew a 5-0 lead but rallied in the first extra inning to eclipse the Grasshoppers, 6-5. Jackson Stoeckinger got the start and pitched into the 6th, allowing five hits (one HR) and leaving with the bases loaded and up 5-1. Ryan Tapani let in all three baserunners and one of his own to blow his fourth save of the season but went the distance to win his fifth game. Armond Upshaw and Jackson Cluff both homered and notched two hits to lead the Hagerstown offense.
Auburn 4 Lowell 3
• Rutledge 3IP, 1H, 1R, 1ER, BB, 2K, HR, HBP
• Peterson (W, 1-0) 3IP, 5H, 2R, 2ER, 0BB, K, HR
• Bocko (H, 1) 1⅔ IP, 0H, 0R, BB, K
• Arruda 2-5, 2B
• Senior 2-4, R, HR, 3RBI
Auburn rallied for four in the 7th to erase a 3-0 deficit and prevent the three-game sweep by Lowell with a 4-3 win in the series finale. Jackson Rutledge gave up fewer runs then innings pitched for the first time as a pro, allowing one run on one hit (you know it), walking one, and striking out two. Todd Peterson was the pitcher of record and picked up his first "W" with two runs allowed on five hits (one HR) over three innings. Jack Dunn's RBI single broke up the shutout while Eric Senior had a moment as he lost the ball over the left-field fence for a three-run HR, his second. Jordan Bocko and Hunter McMahon combined for three scoreless innings to close out the game and earn the hold and save, respectively.
GCL Astros 7 GCL Nationals 3
• P. Gonzalez (L, 0-2) 5IP, 4H, 3R, 3ER, 3BB, 2K, HR, WP
• Beasley 2IP, 1H, 1R, 0ER, BB, K
• Strohschein 2-4, RBI
• Hubbard 1-3, R, HR, RBI