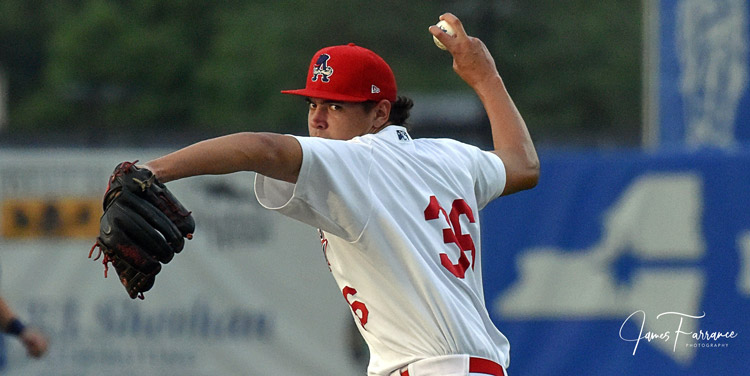 | | | | |
| --- | --- | --- | --- |
| Team | Yesterday | Today | Pitching Matchup |
| Fresno | Won, 11-6 | @ Sacramento, 10:05 p.m. | Braymer (0-1, 8.79) vs. Menez (1-0, 4.25) |
| Harrisburg | Won, 6-3 | vs. Richmond, 6:00 p.m. | Sanchez (6-2, 3.39) vs. Beachy (3-5, 5.76) |
| Potomac | Lost, 9-4 | @ Fayetteville, 6:00 p.m. | Johnston (8-8, 4.43) vs. France (3-5, 3.88) |
| Hagerstown | Won, 4-2 | @ Lakewood, 7:05 p.m. | Schaller (0-1, 6.30) vs. Pipkin (3-2, 5.40) |
| Auburn | Won, 7-5 | @ Lowell, 5:05 p.m. | R. Gomez (1-0, 6.05) vs. Padron-Artilles (3-0, 1.61) |
| GCL Nationals | OFF DAY | vs. GCL Mets, 10:00 a.m. (DH) | |
Fresno 11 Sacramento 6
• Ondrusek (W, 4-3) 5⅓ IP, 4H, 3R, 3ER, 2BB, 8K, HR; 1-3, RBI
• Blazek (H, 6) 1⅔ IP, 0H, 0R, 0BB, 3K
• Hernandez 4-5, 4R, 3-2B
• Read 3-5, 2R, 2B, 3B, HR, 5RBI
• Marmolejos 3-4, 3R, BB, HR, 2RBI
The Grizzlies put up crooked numbers in three of the first five innings to take a 10-2 lead and withstood a few scratches down the stretch for an 11-6 win over the River Cats. Logan Ondrusek struck out a season high of eight while winning his fourth game. The 34-y.o. allowed three runs on four hits and two walks over five and a 1/3rd innings. Yadiel Hernandez led Fresno's 15-hit parade with a single and three doubles, followed by José "Orange" Marmolejos with two singles and his 10th HR, and Raudy Read who doubled, tripled, and homered.
Harrisburg 6 Richmond 3
• Mapes 5IP, 5H, 2R, 2ER, 2BB, 2K
• Condra-Bogan (W, 4-3) 1IP, 1H, 0R, 0BB, 0K
• Barrett (SV, 16) 1IP, 0H, 0R, BB, 3K
• Banks 3-5, R, 3B, 3RBI
• Bautista 2-3, 2BB, SB
• M. Taylor 2-5, R, 2B, 2K
Nick Banks tripled in the go-ahead run in the 7th and singled in the final Harrisburg run in the 8th as the Sens took a second straight from the Squirrels, 6-3. Tyler Mapes got the start and turned in five innings of two-run ball on five hits and two walks while striking out two. The win went to Jacob Condra-Bogan for pitching the 7th with nary a run while Aaron Barrett struck out the side in the 9th for his 16th save. Banks had three hits and three RBI total while Rafael Bautista singled twice, walked twice, and stole a base to lead the Harrisburg attack.
Roster moves: RHP Kyle McGowin recalled to Washington; RHP Brad Boxberger assigned from Washington.
Myrtle Beach 9 Potomac 4
• M. Peña (L, 5-5) 3+ IP, 6H, 5R, 5ER, 2BB, 0K, HR
• Reyes 1IP, 1H, 1R, 1ER, 3BB, 1K, 1-1 IR-S
• Freeman 3-5, R, RBI, 2SB
• Canning 2-4, R, SB
• Dunlap 2-3, R, BB
The wheels came off the bus in the 4th for the P-Nats as the Pelicans overcame a 4-0 deficit with six runs and cruised to a 9-4 win to take the series, 2-1. Malvin Peña gave up the first five runs on five hits and two walks over three-plus innings to lose for the fifth time. Cole Freeman racked up his third three-hit game over the last four and combined with Gage Canning, who had two hits in four trips to the plate, on a double steal in the 1st. Alex Dunlap also reached base three times with two singles and a walk. He did not steal a base but did throw out a basestealer.
Hagerstown 4 Lakewood 2
• Irvin (W, 5-6) 6IP, 4H, 2R, 2ER, 2BB, 2K, HR
• Day (H, 4) 2IP, 0H, 0R, 0BB, 1K
• Howell (SV, 1) 1IP, 0H, 0R, BB, 3K
• Marinconz 3-4, 3R, 3B
• Daily 3-4, R, 2RBI
Jake Irvin turned in a quality start while Kyle Marinconz got on base three times and scored three times as Hagerstown doubled up Lakewood, 4-2. Irvin went six innings and allowed both BlueClaws runs on four hits and two walks. Chandler Day followed with two perfect frames for his fourth hold while Jacob Howell worked around a walk in the 9th by fanning three to earn the save. Cole Daily had three singles, drove in Marinconz twice, and scored the fourth Suns run.
Auburn 7 Connecticut 5
• Romero 3⅔ IP, 2H, 4R, 2ER, 5BB, 3K
• Willingham (W, 1-2) 3⅓ IP, 1H, 0R, BB, K, 1-1 IR-S
• Carrillo 2-3, 2-2B, 2RBI, BB
• Perez 1-2, 2R, 2BB
• Alu 1-4, R, 3B, 3RBI
Jake Alu's three-run triple in the 5th turned a 4-3 deficit into a 6-4 lead that the Doubledays 'pen held for a 7-5 win to take the series, 2-1. Carlos Romero (pictured above) got the start and made it into the 4th before the Tigers sent him packing with four runs allowed on two hits and five walks over three and 2/3rds. Amos Willingham let in one inherited runner on a deflected single but retired 10 of 11 batters faced with one walk and one whiff for his first professional win. Connecticut walked nine to enable Auburn to score seven times on five hits, with Adalberto Carrillo the sole batter to notch multiple hits – both doubles.
GCL Nationals – OFF DAY
Roster moves: RHP Thony Anderson placed on suspension; LHP Lucas Knowles (14th Rd. pick) assigned from Washington.