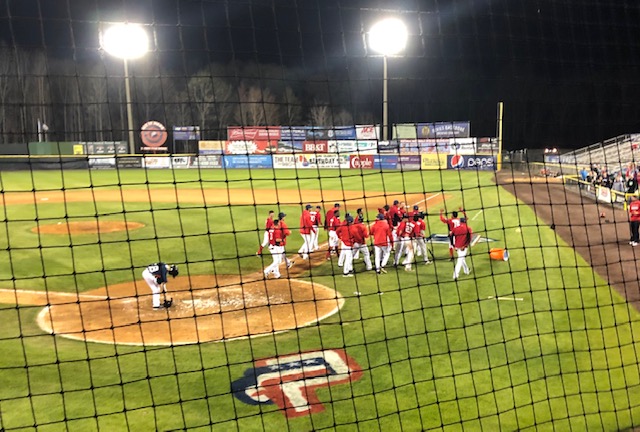 Alex Dunlap had struck out three times already—twice looking, both times with the bases loaded—and had already stranded eight baserunners when he came up to bat in the 7th with two out, two on, and a facing a fresh reliever. He would not wear the Golden Sombrero.
Instead, he would take the first pitch he saw off the second deck of ads over the left field wall for a three-run walkoff home run and a 5-3 win that completed Potomac's doubleheader sweep of Fayetteville.
The win in Game Two would go to Andrew Lee in his High-A debut as he threw three innings of one-run relief on two hits and no walks while striking out four. He was taking over from Grant Borne, who was making his first pro appearance since July 2017. The (25th) birthday boy went the first four innings and scattered six hits while giving up two run, one walk, and fanning three.
Osvaldo Abreu, also returning to Potomac after a long hiatus, was responsible for the first two P-Nats runs with an RBI single in the 2nd and a hit-by-pitch in the 3rd.
In the opener, David Masters provided what proved to be the game-winning runs with a two-out, two-run double in the 2nd to end a streak of 10 scoreless innings by the Potomac offense. Aldrem Corredor added a run with an RBI single in the 3rd to push the lead to 3-0 for Jackson Tetreault.
Tetreault struck out five, gave up five hits and walked one over five innings to earn the win. Steven Fuentes picked up the save with two strong innings and setting down four straight on strikes before giving up a flyball to right to end the game, 5-1 in favor of Potomac.
The Woodpeckers and P-Nats conclude their four-game series on Sunday afternoon. Nick Raquet (5-3, 4.91 in '18) is slated to pitch for Potomac opposite Chad Donato (6-0, 2.04 @ A- in '18) for Fayetteville.