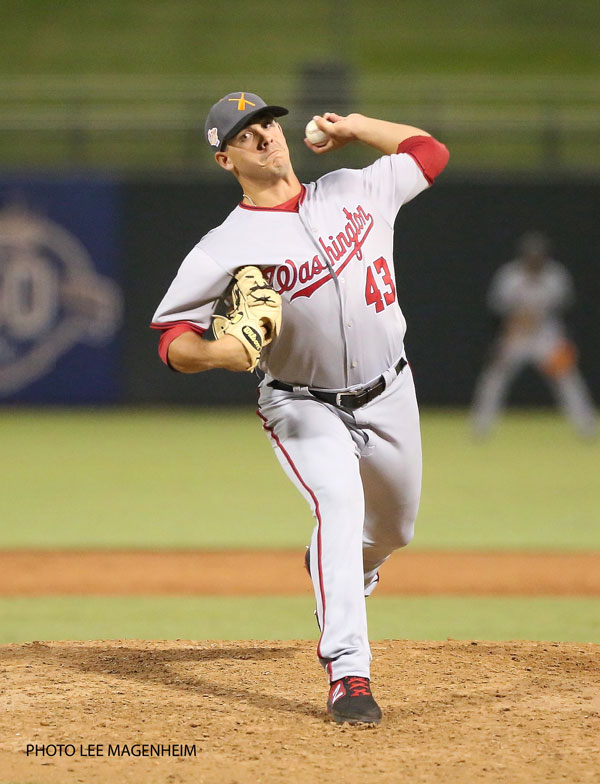 With single runs in the 1st, 6th, and the 8th innings, Salt River overcame an early 2-1 deficit to edge the Scorpions, 3-2 for their fourth straight win.
Carter Kieboom and Daniel Johnson both got the start—at shortstop and centefield, respectively—but both were 0-for-3 with a walk. Johnson dis steal his 5th base of the fall while Kieboom took part in two double plays.
On the mound, Taylor Guilbeau was the first Rafter reliever out of the 'pen and struck out the first batter he faced to get Salt River out of the 5th and strand a runner. He erased a leadoff walk in the 6th with a 3-6-1 DP and face the minimum with a flyout to end the 6th. He threw 17 pitches, 11 for strikes.
Jordan Mills followed Guilbeau on the mound in the 7th and also got a double play to offset putting the leadoff man on (single), then got a backwards K to end the innings. He threw 15 pitches, 10 for strikes.
Salt River now leads the AFL East by 4½ games and has a magic number of three to clinch a spot in the Championship game. Tonight, the Rafters play the Javelinas, who lead the AFL West by six games and could clinch with a win and losses by both the Desert dogs and the Saguaros.