Syracuse garners the sole win while Potomac and Auburn lose in extras.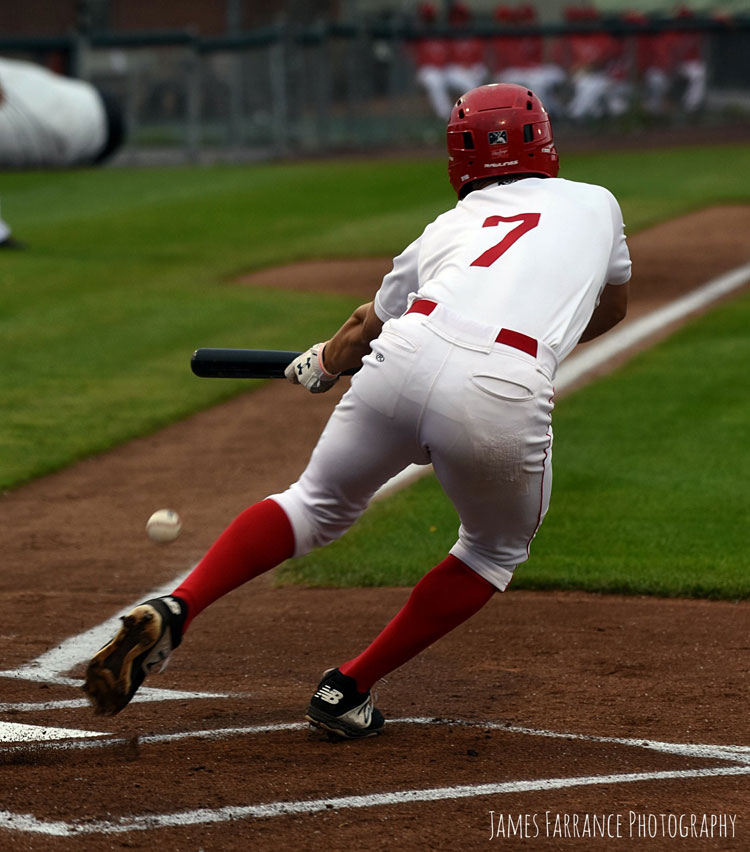 Team
Yesterday
Today
Pitching Matchup
Syracuse
Won, 7-3
vs. Lehigh Valley, 6:35 p.m.
Goforth (3-4, 3.73) vs. De Los Santos (10-4, 2.56)
Harrisburg
Lost, 3-2
@ Altoona, 6:00 p.m.
Sharp (5-2, 3.95) vs. Vieaux (8-4, 3.71)
Potomac
Lost, 7-6
(10 inn.)
@ Lynchburg, 6:30 p.m.
Raquet (2-3, 6.75) vs. Morgan (7-6, 3.87)
Hagerstown
OFF DAY
@ Lexington, 7:05 p.m.
TBD vs. TBD
Auburn
Lost, 9-6
(10 inn.)
@ State College, 7:05 p.m.
Schaller (1-1, 4.86) vs. Kraus (2-1, 2.39)
GCL Nationals
Lost, 7-2
OFF DAY
Lehigh Valley 4 Syracuse 2 (10 inn.)
• Voth 5IP, 4H, 3R, 3ER, 4BB, 9K, HR
• Robles 2-5, 2R, K, SB(11)
• Marmolejos 0-3, R, BB
The last-place Chiefs scored six times in the bottom of the 8th and didn't give them right back for a 7-3 win over the first-place IronPigs. Roster moves: UT Adrian Sanchez optioned from Washington.
Altoona 3 Harrisburg 2
• Ross (L, 0-1) 5IP, 4H, 3R, 3ER, 0BB, 6K, HR, HBP
• Mills 2IP, 3H, 0R, 0BB, 0K
• Ward 3-4, 2R, HR, RBI
• Abreu 2-3, RBI
Despite having an MLB rehab on the fast track to return, Harrisburg dropped a 3-2 decision to the Curve. Joe Ross gave up all three runs on four hits, including a two-run HR. He walked none and struck out six. Jaron Long and Jordan Mills combined four three scoreless innings of relief but the Sens offense was held to seven hits, three of which came off the bat of Drew Ward, who singled twice and homered. Roster moves: RHP Joe Ross transferred from Potomac for MLB Rehab.
Lynchburg 7 Potomac 6 (10 inn.)
• Johnston 2⅓ IP, 3H, 5R, 5ER, 6BB, 4K, HR
• Acevedo 3⅔ IP, 0H, 0R, BB, 5K, WP, 2-0 IR-S
• Fuentes (L, 3-3) 2IP, 1H, 2R, 1ER, 0BB, 3K, 1-0 IR-S
• Wiseman 3-4, R, BB, RBI
• Mejia 3-6, 3K
• Monasterio 1-3, 3R, 2BB, RBI
The P-Nats came back from an early 5-0 deficit to tie it at 5-5 but fell in extras to the Hillcats, 7-6. Kyle Johnston was again confused about the need to throw the ball over the plate as he walked six of 15 batters faced and was charged with five runs on three hits, including two-run HR, over just two and a 1/3 innings. Carlos Acevedo and Hayden Howard combined for five and a 1/3rd shutout innings of relief but the P-Nats couldn't push across the go-ahead run in regulation. Steven Fuentes suffered another loss in extras as a double plated the free runner, then a pair of sacrifices (hit, fly) sent in the game-winning run. Rhett Wiseman reached base four times with three singles and a walk to lead the Potomac offense, followed by Bryan Mejia with three singles. Roster moves: IF Edwin Lora placed on the 7-Day DL.
Hagerstown – OFF DAY
After losing so many home dates in 2018, it's time to look forward to 2019 as Hagerstown released next year's schedule. Meanwhile, the Suns are on the road for the next eight days, hoping to play eight games.
Mahoning Valley 9 Auburn 6 (10 inn.)
• Peguero 5IP, 5H, 2R, 2ER, 0BB, 3K, HR, HBP
• Guillen (BS, 1) 2⅓ IP, 3H, 4R, 2ER, BB, K, HR, 2-0 IR-S
• Adon (L, 1-1) 1IP, 3H, 3R, 2ER, 2BB, K, HR
• Pineda 2-4, 2RBI
• Perkins 2-5, R, 2B
• C. Wilson 1-3, R, 2BB, CS
Auburn's tailspin went to four games as Mahoning Valley returned the favor from last week and swept the Doubledays at home with a 9-6 win in 10 innings. Francys Peguero went the first five innings and tossed five innings of two-run ball with five hits (one HR) and no walks allowed. He struck out three. Angel Guillen and Joan Adon did their best imitation of Shawn Kelley as they gave up the tying HR (Guillen) and the walk-off (Adon) for the blown save and loss, respectively. Israel Pineda and Nic Perkins both had two hits to pace the Doubledays' eight-hit, six-walk offense.
GCL Marlins 7 Nationals 2
• Strom (L, 1-3) 4IP, 7H, 4R, 4ER, BB, 3K, 2WP
• R. Gomez 3IP, 2H, R, ER, 2BB, 3K
• Vega 2-3, R
• Emiliani 2-5, 2B, RBI
The G-Nats are also circling the drain as the season winds down as they dropped their fifth straight, 7-2 to the G-Marlins. Leif Strom lost for the third time as he gave up four runs on seven hits and a walk while setting three down on strikes over four innings. Onix Vega singled twice and scored once while Leandro Emiliani singled, doubled, and drove in a run (Vega) as one of three hits in 15 chances with RISP.