Harrisburg wins big to highlight a four-win Saturday in the Nats minors.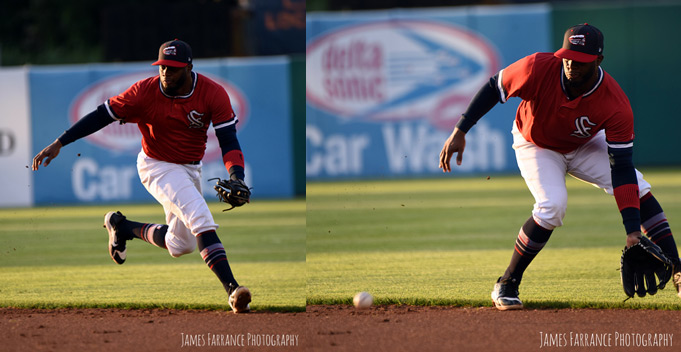 | | | | |
| --- | --- | --- | --- |
| Team | Yesterday | Today | Pitching Matchup |
| Syracuse | Won, 3-2 | vs. Gwinnett, 1:05 p.m. | Rodriguez (1-2, 4.39) vs. Santiago (2-3, 4.85) |
| Harrisburg | Won, 9-1 | vs. Trenton, 1:30 p.m. | Darnell (7-5, 4.70) vs. Rosa (0-1, 5.40) |
| Potomac | Lost, 4-0 | @ Winston-Salem, 2:00 p.m. | Raquet (2-2, 6.67) vs. Parke (3-3, 3.94) |
| Hagerstown | Won, 4-3 | @ Charleston, 5:05 p.m. | A. Lee (3-2, 4.37) vs. Sanmartin (2-4, 4.09) |
| Auburn | Lost, 2-0 | vs. State College, 2:00 p.m. | Schaller (1-0, 4.00) vs. Baird (1-2, 2.08) |
| GCL Nationals | Won, 3-0 | @ GCL Marlins, 10:00 a.m. | |
Syracuse 3 Gwinnett 2
• Voth 7IP, 6H, 2R, 2ER, BB, 3K, HR
• Adams (W, 1-2) 1IP, 2H, 0R, BB, 2K
• Robles 0-2, 2BB, SB(10)
• Marmolejos 1-4, 2K
Andrew Stevenson homered in the 3rd to take a 2-0 lead, Pedro Severino went yard in the 8th for the game-winner.
Harrisburg 9 Trenton 1
• Sharp (W, 4-2) 6IP, 3H, R, ER, 4BB, 5K
• Bourque (H, 2) 2IP, 1H, 0R, 0BB, 3K
• Gamache 3-5, R
• Ward 2-2, R, 2BB, RBI
• Keller 2-5, R, 2B, 2RBI
The Senators returned the favor from Friday night and rolled the Thunder, 9-1 to even the series at 1-1. Sterling Sharp won his fourth AA game with six innings of one-run ball on three hits and four walks while striking out five. James Bourque followed with two scoreless an Jordan Mills closed out the 9th with a third goose egg. Dan Gamache led the 14-hit parade with three singles while Drew Ward reached base four times with two walks and two singles to lead the Harrisburg offense. Roster moves: RHP Tyler Mapes paced on the 7-Day DL; C Jake Lowery activated from the 7-Day DL.
Winston-Salem 4 Potomac 0
• Baez (L, 7-9) 5⅔ IP, 5H, 3R, 0ER, 3BB, 1K
• Howard 2⅓ IP, 2H, R, ER, 0BB, 2K, 2-0 IR-S
• Sundberg 2-2, 2BB, CS
• Mejia 1-4, E(10)
Potomac couldn't overcome an error and couldn't push across a single run as they were shut out by Winston-Salem, 4-0. Joan Baez lost for the 9th time and he gave up three unearned runs on five hits and three walks while striking out one (1) over five and 2/3rds innings. Hayden Howard stranded two while getting out of the 6th but gave up a run of his own in the 7th while finishing the game. Jack Sundberg singled twice and walked twice but was also caught stealing and thrown out at home. The rest of the team had just four hits and one walk.
Hagerstown 4 Charleston 3
• Hill 5IP, 6H, 2R, 2ER, 2BB, 8K
• Bartow (W, 2-2) 2IP, 2H, 0R, 0BB, 3K
• Choruby 2-3, 2R, BB, 3SB
• Esthay 2-3, 2B, BB, RBI, CS
The Suns rallied for single runs in the 8th and 9th innings to tie and win the game, 4-3 over the RiverDogs. Brigham Hill went the first five innings and gave up two runs on six hits and two walks. He struck out a career-high of eight. Hagerstown got a baserunner with one out in the final two frames and converted both in to runs. Nick Choruby reached base three times and stole three bases while Kameon Esthay singled, doubled, walked, and drove in a run to lead the Suns offense. Frankie "Goes To Hagerstown" picked up the win in relief with the help of Gage Canning throwing out a runner on a single to right following a one-out double in the bottom of the 9th.
State College 2 Auburn 0
• Cate (L, 2-3) 3IP, 4H, 2R, 2ER, 5BB, 3K
• Day 3IP, 2H, 0R, 0BB, 4K
• O'Connor 1-4, 2B
• Marinconz 0-2, 2BB
State College shut out Auburn 2-0 on three hits in the series opener. Tim Cate doubled his season walk total to ten with five free passes over three innings as he let in both Spikes runs on four hits while fanning three. Gilberto Chu (2IP), Aaron Barrett (1IP), and Chandler Day (3IP) combined for six scoreless innings to keep things close. The Doubleday offense couldn't get a runner past second base, including Pablo O'Connor after he led off the 2nd with a double, and went 0-for-8 with RISP and left on six baserunners. Roster moves: RHP Joan Adon reassigned from the GCL.
GCL Nationals 3 GCL Astros 0
• Ross 3IP, 0H, 0R, BB, 3K
• Williamson (W, 1-0) 4IP, 2H, 0R, 0BB, 5K
• A. Hernandez (SV, 2) 2IP, 1H, 0R, 0BB, 1K
• Quintana 2-3
• Chisholm 1-3, 2B, RBI, HBP
Three G-Nats pitchers combined on a three-hit, 3-0 shutout of the G-Astros. Joe Ross threw three no-hit innings, issuing a walk and striking out three in his second appearance of 2018. Ryan Williamson, 15th Rd. pick in 2016, won his first professional gave with two hits allowed over four innings without a walk and five whiffs. Alfonso Hernandez closed it out with two goose eggs and the third hit allowed to earn his second save. Jonathan Quintana led the regulars with two singles in three trips to the plate, followed by Blake Chisholm who went 1-for-3 with an RBI double. Roster moves: RHP Carlos Romero reassigned from the DSL.
DSL Update
Another D-Nats pitcher and a position player were sent to Florida this past week. The former is fairly typical, but the latter begs all sorts of questions as the 17-y.o. (turns 18 in six weeks) is neither tearing it up (.596 OPS) nor burning up the basepaths (3-of-7 SB's) or showing an unusually high range factor (a Jeter-esque 3.88). The team went 2-4 to drop back down .500 at 30-30 with two weeks left to play.