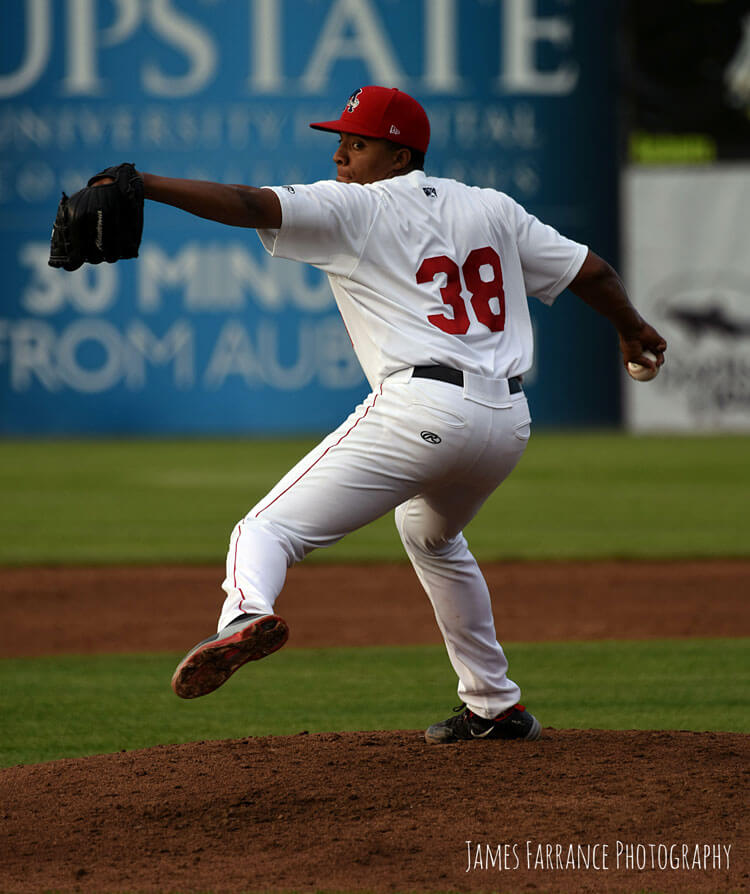 Team
Yesterday
Today
Pitching Matchup
Syracuse
Lost, 7-3
@ Pawtucket,
7:05 p.m.
Milone (5-4, 4.47) vs.
Pomeranz (0-1, 7.20)
Harrisburg
Won, 4-3
vs. Hartford,
7:00 p.m.
Long (3-6, 3.03) vs.
Grills (2-2, 4.55)
Potomac
Won, 6-3
vs. Frederick,
7:05 p.m.
TBD vs. Baumann (4-2, 4.09)
Hagerstown
Won, 6-0
vs. Columbia,
7:05 p.m.
Tetreault (3-7, 4.54) vs.
Grotz (1-2, 5.76)
Auburn
Lost, 6-1
vs. Lowell,
7:05 p.m.
Teel (1-0, 4.50) vs.
Brown (0-2, 1.72)
GCL Nationals
Lost, 6-1
@ GCL Marlins,
12:00 p.m.
Pawtucket 7 Syracuse 3
• Valdez (L, 3-6) 5⅔ IP, 6H, 4R, 3ER, 2BB, 6K, @P, 2HBP
• Marmolejos 2-4, 2R, 2B, HR(5), RBI, 2K
• Ward 1-3, 2B, BB, E
Roster moves: IF Irving Falu activated from the TIL.
Harrisburg 4 Hartford 3
• Darnell (W, 5-4) 6IP, 5H, 3R, 3ER, BB, 5K, HR, WP
• R. Pena (SV, 2) 1IP, 0H, 0R, 0BB, 0K
• Gamache 2-4, 2B
• Keller 2-4, 2R, 2-2B, RBI
• Abreu 2-3, R, HR, 3RBI
The Senators answered the Yard Goats' two-run rally in the top of the 2nd with a three runs and held on for a 4-3 win. Logan Darnell gave up all three Hartford runs on five hits, including a HR, over six innings for his fifth win. He walked one and struck out five. Dakota Bacus, Roman Mendez, and Ronald Pena each put up a goose egg on the scoreboard to close out the game. Alec Keller doubled twice, Dan Gamache once, and Osvaldo Abreu homered as each had two hits and combined for three runs and three RBI. Roster moves: C Raudy Read reassigned from Syracuse; OF Adam Walker placed on the 7-Day DL.
Potomac 6 Lynchburg 3
• Baez (W, 4-8) 5⅓ IP, 6H, 3R, 3ER, 2BB, 4K
• McKinney (H, 3) 2⅔ IP, 0H, 0R, 2BB, 4K
• Mejia 3-5, R, 2B
• Garcia 3-5, R, RBI
• Sagdal 3-5, R, 2B, 3RBI, SB
Potomac once again had no trouble racking up the hits (15) but needed a two-HR from Nick Basto in the 9th to get some breathing room to take its third straight game from Lynchburg, 6-3 and win the four-game series, 3-1. Joan Baez won his fourth game and not coincidentally pitched into the 6th with all three Hillcats runs let in on six hits and two walks. He struck out four. Jeremy McKinney finished the 6th and had donuts in the 7th and 8th innings for his third hold. Hayden Howard cordero'd his way through the 9th with two hits allowed and two whiffs for his first save. Bryan Mejia, Luis Garcia, and Ian Sagdal each went 3-for-5 with a run scored while Rhett Wiseman was the beer man, though he did draw a walk.
Hagerstown 6 Columbia 0
• Lee (W, 3-2) 5IP, 2H, 0R, BB, 1K
• Held 2IP, 0H, 0R, 0BB, 1K
• Bartow 2IP, 1H, 0R, 0BB, 2K
• Upshaw 3-3, 3R, 2B
• Esthay 1-3, R, HR, RBI
• Scudder 1-3, RBI
Three Suns helped return the favor from Wednesday as they snuffed the Fireflies on three hits for a 6-0 shutout. Andrew Lee won for the third time as he got through five innings on just 68 pitches and allowed the first two hits and a walk while striking out one. Sam Held did for two innings while Frankie "Goes to Hagerstown" Bartow gave up the final Columbia hit while closing out the game with two innings. Armond Upshaw singled twice, doubled once, and scored thrice while Kameron Esthay homered to lead the Hagerstown offense. Roster moves: SS Juan Pascal reassigned from Auburn (prior to the game; Antuna appears to have been removed during the 3rd inning for not running out a popup).
Lowell 6 Auburn 1
• Peguero (L, 2-1) 4IP, 6H, 4R, 4ER, 4BB, 2K, 2WP, BK
• Tapani 2IP, 2H, 0R, 0BB, 4K
• O'Connor 2-4, 2B
• Shaddy 1-4, 2B, RBI
Lowell torched four Auburn pitchers for 11 hits and cruised to a 6-1 win. Francys Peguero (pictured above) lost for the first time as he was burned for four runs on six hits and four walks over four innings. Telmito Agustin and Carson Shaddy hit back-to-back doubles in the 6th to break up the shutout bid but the Doubledays managed just four hits total, with Pablo O'Connor accounting for the other two hits, a single and a double.
GCL Astros 6 GCL Nationals 1
• Theophile 1IP, 0H, 0R, 0BB, 3K
• Cuello (L, 0-2) 3IP, 2H, R, ER, 0BB, 2K
• Connell 2-4
• Morales 4-5, R
• Chisholm 2-3, RBI
Speak of the devil… Rodney Theophile made his second pro appearance and struck out the side in the 1st. After that, it was pretty much all G-Astros as they piled on six runs in the middle innings to extend the G-Nats' slide to four games with a 6-1 loss. The "L" went to Carlos Cuello for giving up the first run on two hit over three innings. Jesus Morales picked up four hits while Justin Connell and Blake Chisholm had two apiece to lead the G-Nats attack.