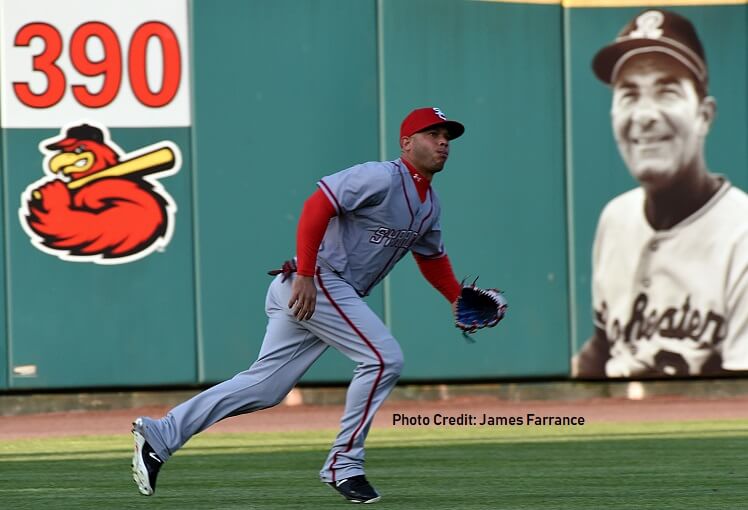 Team
Yesterday
Today
Pitching Matchup
Syracuse
Lost, 9-1
@ Rochester,
7:05 p.m.
Milone (2-2, 5.09) vs.
Enns (1-4, 5.96)
Harrisburg
Won, 8-2;
Tied, 4-4 (Susp., 6th)
@ Bowie,
11:05 a.m.
TBD and Reyes (2-4, 4.93) vs.
TBD and Akin (4-3, 2.75)
Potomac
Postponed
vs. Salem,
4:00 p.m.
Baez (2-2, 5.52) and
Braymer (1-0, 2.45) vs.
Thompson (1-2, 5.14) and
Hernandez (2-1, 4.84)
Hagerstown
Won, 10-7;
Won, 7-4
OFF DAY
N/A
Rochester 9 Syracuse 1
• Vargas (L, 0-3) 4⅓ IP, 8H, 4R, 4ER, 2BB, 2K
• Adams 1IP, 2H, 0R, BB, 2K
• Marmolejos 1-3, 2B, BB
• Hague 1-4, R, HR, RBI
The Chiefs fell behind 3-0 after the 1st and never recovered as the RedWings cruised to a 9-1 win in the opener. Cesar Vargas took the loss, giving up four runs on eight hits and two walks over four and a 1/3rd innings. Matt Hague broke up the shutout with a solo HR in the 4th. Syracuse was held to seven hits, with Jose "Orange" Marmolejos the sole batter to reach base twice. Roster move: RHP Cody Satterwhite reassigned to Auburn.
Harrisburg 8 Bowie 2 – COMP.
• Williams (W, 1-1) 4IP, 6H, R, ER, 0BB, 6K
• Ames 2IP, 1H, 0R, 0BB, 2K
• Soto 2-4, R, RBI
• Ward 2-5, 2R, HR, RBI
• Gutierrez 2-5, R, SB
Drew Ward and Taylor Gushue led off the 5th and 7th innings with a homer as Harrisburg cruised to an 8-2 win in the continuation from last night's game. Austen Williams pitched four innings, allowing one run on six hits to pick up the win in relief. He walked none and struck out six. Juan Soto broke an 0-for-12 hitless span with singles in the 1st and 4th innings and was given a seat by manager Matt LeCroy after not running the way he did for the postgame spread out a ground ball in Soto's final plate appearance.
Harrisburg 4 Bowie 4 – SUSP. (6th inn.)
• McGowin 5⅔ IP, 6H, 4R, 4ER, BB, 7K
• Harper ⅓ IP, 1H, 0R, 0BB, 0K, 1-0 IR-S
• Johnson 2-3, R
• Soto 2-3, RBI
SSDD, as Harrisburg and Bowie were suspended after six innings with the score tied at 4-4. They'll pick it up this morning and finish last night's game, then play a nine-inning game. Kyle McGowin gave up all four BaySox runs on six hits and a walk over five and 2/3rds for a no-decision in his first AA start of 2018. Bryan Harper stranded a runner while getting the final out of the 6th. Daniel Johnson and Juan Soto were both 2-for-3 when play stopped.
Potomac vs. Salem – PPD
Wet grounds and thunderstorms in the forecast were the reasons cited for pulling the plug on the P-Nats-Sox game on Tuesday night. They'll shoot to make it up with a doubleheader today. Roster moves: LHP Matthew Crownover activated from 7-Day DL; RHP Gabe Klobosits placed on the 7-Day DL; RHP Jeremy McKinney reassigned from Hagerstown.
Hagerstown 10 Charleston 7 – GAME ONE
• DeRosier (W, 1-1) 5IP, 6H, 2R, 2ER, BB, 5K, HR
• Fuentes (SV, 1) 1IP, 1H, 0R, 0BB, 1K
• Banks 2-3, R, 2B, HR, BB, 3RBI
• Upshaw 2-3, 2R, 3B, 3RBI
• Garcia 2-4, 2R, 2B, 3B, 2RBI
Hagerstown thrashed Charleston pitchers for ten hits, including four doubles, two triples, and a homer. They needed to as Carlos Acevedo (9.86 ERA, 2.14 WHIP in 21IP) turned a 9-2 lead into a 9-7 edge before Steven Fuentes came on in the 7th to earn the save, his first at Low-A this season. Nick Banks drove in three, as did Armond Upshaw, while Luis Garcia plated two to lead the Suns attack.
Hagerstown 7 Charleston 4 – GAME TWO
• Stoeckinger (W, 2-3) 6IP, 5H, 4R, 4ER, BB, 2K, HR
• Bogucki (SV, 2) 1IP, 0H, 0R, 0BB, 0K
• Garcia 2-2, R, SF, RBI
• Banks 2-3, R, RBI
• Corredor 1-2, R, SF, HR, 4RBI
Hagerstown won back-to-back games for the first time this season with a 7-4 win in the second game that swept the doubleheader. Jackson Stoeckinger wobbled through the first three innings, in which he gave up all four Charleston runs, before throwing three scoreless frames to earn his second win. A.J. Bogucki pitched a 1-2-3 seventh to get the save, his second. The Suns offense was led by Luis Garcia, who singled twice and drove in a run with a sac fly, as did Aldrem Corredor, who also hit a three-run HR in the 1st. Roster move: RHP Phil Morse assigned from XST.