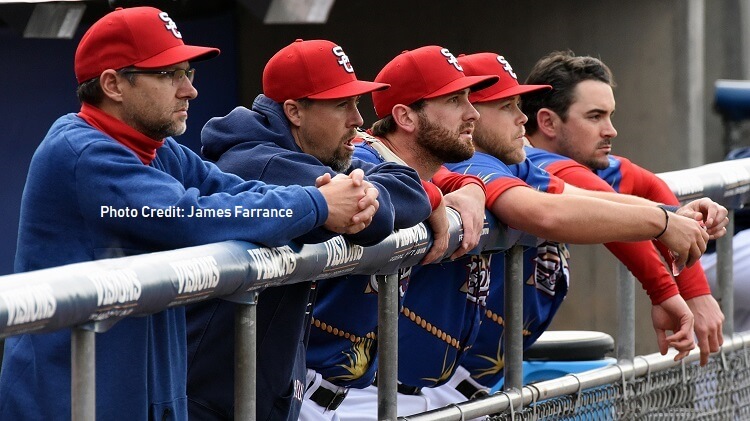 Team
Yesterday
Today
Pitching Matchup
Syracuse
Lost, 6-5
vs. Pawtucket,
1:05 p.m.
Jackson (1-1, 3.94) vs.
Walden (0-1, 9.82)
Harrisburg
Postponed
vs. New Hampshire,
1:30 p.m.
Darnell (2-0, 1.98) and
Dragmire (2-2, 2.64) vs.
Reid-Foley (5-0, 1.83) and
Zeuch (0-1, 9.00)
Potomac
Won, 7-4
@ Frederick,
2:00 p.m.
Sharp (4-2, 4.00) vs.
Gonzalez (2-2, 3.12)
Hagerstown
Won, 10-8
(6 inn.)
vs. Charleston,
2:05 p.m.
Tetreault (0-3, 7.22) vs.
Garcia (0-2, 4.34)
Syracuse 6 Pawtucket 5
• Fedde 5IP, 9H, 5R, 5ER, 2BB, 4K
• Valdez 3⅓ IP, 4H, 0R, BB, 4K
• Miller (W, 2-0) ⅔ IP, 0H, 0R, 0BB, 0K, 3-0 IR-S
• Reynolds 2-3, 2R, 2B, 2BB, 3RBI
• Gosewich 2-4, 2BB, 2RBI
• Wilson 2-4, 2B, RBI
Syracuse came back from a 4-0 deficit with a two-run 5th and three-run 6th and literally walked off in the 9th with bases-loaded base on balls for a 6-5 win over Pawtucket. The PawSox shredded Erick Fedde for all five runs on nine hits over five innings. He walked two and struck out four. Phillips Valdez locked 'em down for three and a 1/3rd innings but the win went to Justin Miller, who escaped a three-on, one-out jam in the top of the 9th. Rafael Bautista led off the 9th with a single, took 3rd on a one-out safety by Matt Hague, and came in on an unintentional walk to Matt Reynolds after an intentional one to Jose "Orange" Marmolejos. Roster moves: IF Mark Reynolds recalled to Washington; RHP Cody Satterwhite activated from the 7-Day DL.
Harrisburg vs. New Hampshire – PPD
Rain spoiled a Saturday night gate for the Senators. They'll shoot to make it up with a doubleheader today.
Potomac 7 Frederick 4
• Mapes 4IP, 0H, 0R, 0BB, 4K
• Braymer (W, 1-0) 3⅔ IP, 5H, 4R, 1ER, 0BB, 3K, 2HR
• Mejia 3-4, R, 2B, HR, 3RBI
• Kieboom 3-5, 2R, 2B
• Perkins 2-5, R, HR, RBI
Potomac pounded Frederick pitching for 16 hits as they won their fifth straight, 7-4. Tyler Mapes was perfect for four innings before giving way to Ben Braymer, who picked up the win but gave up four runs (one earned) on five hits, including two homers. Jordan Mills pitched a 1-2-3 ninth for the save, his third. Bryan Mejia was a triple shy of the cycle and drove in three while Carter Kieboom singled twice, scored twice, and doubled to lead the P-Nats attack. Roster moves: RHP Tyler Mapes activated from the 7-Day DL.
Hagerstown 10 Charleston 8 (6 inn.)
• Alastre 4⅔ IP, 8H, 8R, 6ER, 3BB, 3K, 3HR, 3WP
• McKinney (W, 1-0) 1⅓ IP, 0H, 0R, 0BB, 2K, 2-0 IR-S
• Scudder 3-4, R, 2-2B, 2RBI
• Antuna 2-3, R, 2RBI, E(8)
• Corredor 2-4, 2RBI
The Suns solved their bullpen woes by not having to use more than one reliever, thanks to the rain that shortened the game to six innings for 10-8 win over the RiverDogs. Tomas Alastre was knocked from the box in the 5th after West Virginia lit him up for all eight runs on eight hits, including three longballs, and three walks. Jeremy McKinney stranded two by getting the last out of the 5th and pitched a scoreless 6th to earn the win. Every Hagerstown batter had a hit, with six having two or more. Jake Scudder led the hit parade with a single and two doubles and drove in two, as did Yasel Antuna and Aldrem Corredor.