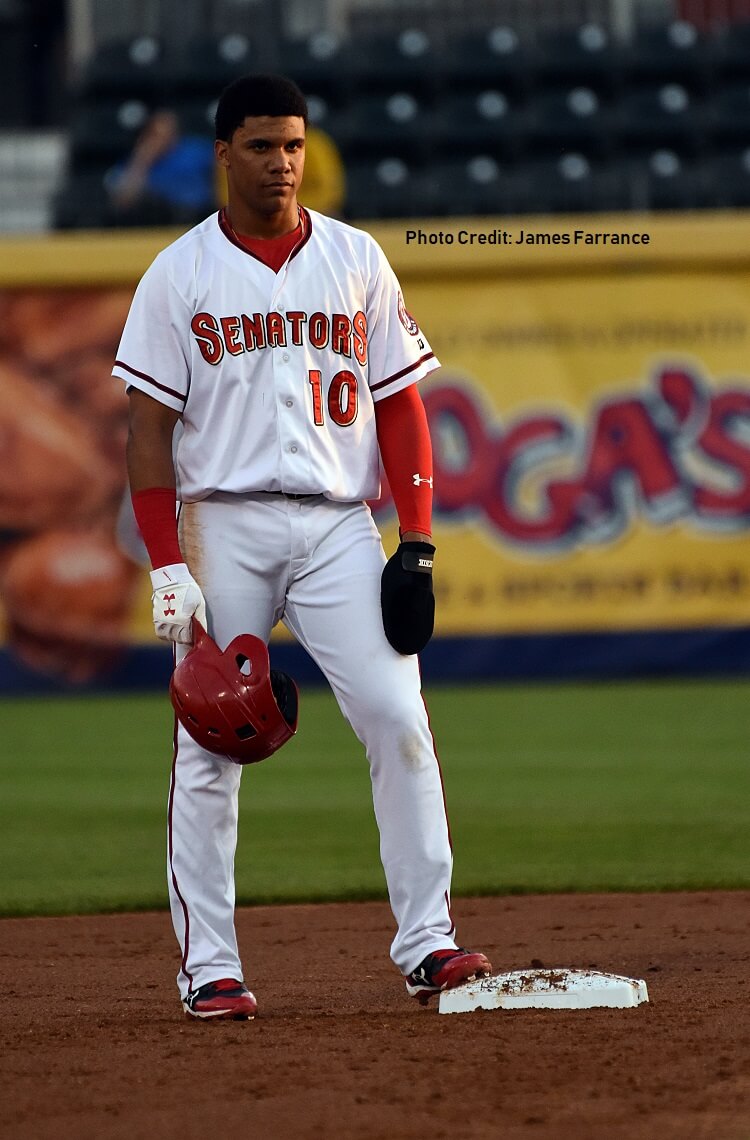 Team
Yesterday
Today
Pitching Matchup
Syracuse
Won, 6-4
vs. Pawtucket,
6:35 p.m.
Voth (2-1, 2.49) vs.
Shepherd (1-2, 5.33)
Harrisburg
Won, 9-8
(10 inn)
vs. New Hampshire,
7:00 p.m.
Reyes (2-3, 5.63) vs.
Romano (5-0, 2.57)
Potomac
Won, 14-3
@ Frederick,
7:00 p.m.
Crowe (5-0, 2.76) vs.
Wells (0-3, 4.22)
Hagerstown
Lost, 13-2
vs. West Virginia,
7:05 p.m.
Raquet (2-3, 2.84) vs.
Cubilete (0-2, 15.43)
Syracuse 6 Pawtucket 4
• Milone (W, 2-2) 5IP, 4H, 2R, 2ER, 4BB, 1K, 0HR
• Simms (H, 2) 2IP, 0H, 0R, BB, 2K
• Kieboom 4-4, 2R, BB, RBI
• Sanchez 3-4, R, 2B, BB, RBI
• Marmolejos 1-3, 2SF, 3RBI
Syracuse fell behind 2-0 early than roared back for five unanswered runs en route to a 6-4 win in the series opener. Tommy Milone spun five innings of two-run ball on four hits and four walks to win his second game. John Simms followed with two scoreless innings for the hold, his second. Spencer Kieboom reached base five times with four singles and a walk followed by Adrian Sanchez, who doubled, singled twice, and walked; both drove in one while Jose "Orange" Marmolejos drove in three with a single and two sacrifice flies.
Harrisburg 9 New Hampshire 8 (10 inn.)
• Long 5IP, 11H, 5R, 5ER, BB, 0K
• Ames (BS, 2) 2IP, 4H, 3R, 3ER, 0BB, 1K, HR
• Self (W, 1-0) 1IP, 0H, 0R, 0BB, 0K
• Hernandez 2-4, 2R, 2B, HR, RBI, 2BB
• Gamache 2-3, R, 2B, 2BB
• Soto 2-5, 2R, 2B, HR, BB, 4RBI, SB
Juan Soto (pictured above) wasted no time in making his presence known as he doubled in his first AB and homered in his second in a 9-8 win in 10 innings by the Senators. Kevin Long's son started and was strafed for five runs on 11 hits and a walk and did not strike out batter over five innings. He was in line for the "W" until Jeff Ames coughed up three runs in the 9th to allow New Hampshire to tie the game. A flyout and an error plated the game-winning run in the bottom of the 10th, which gave Derek Self the win for a scoreless inning pitched. Yadiel Hernandez also homered while Dan Gamache singled, doubled, and walked twice to pace the Harrisburg offense. Roster moves: Juan Soto promoted from Potomac; Wirkin Estevez placed on the 7-Day DL retroactive to May 9.
Potomac 14 Frederick 3
• McGowin (W, 1-1) 7IP, 4H, 1R, 1ER, 0BB, 7K, HR
• Noll 4-6, 2R, 2HR, 3RBI
• Kieboom 3-4, 3R, HR, BB, 5RBI
• Wiseman 3-5, 2R, 2HR, 3RBI
• Masters 3-4, 3R, BB
Potomac smacked five homers without Juan Soto in a 14-3 smackdown of Frederick. Kyle McGowin still got taken deep for the second straight start but lasted seven innings and only gave up four hits total. He walked non and struck out seven while winning his first game of '18. Jake Noll and Rhett Wiseman both homered twice while Carter Kieboom went 3-for-4 with a walk and HR while driving in five as the P-Nats pounded out 18 hits total on the night. Roster moves: OF Alec Keller taken out of storage reassigned from Harrisburg; LHP Matt Crownover placed on the 7-Day DL; RHP Mariano Rivera III placed on the voluntarily inactive list; LHP Ben Braymer promoted from Hagerstown.
West Virginia 13 Hagerstown 2
• Stoeckinger (L, 1-3) 4IP, 8H, 8R, 7ER, BB, 4K, HR
• Fuentes 3IP, 2H, 0R, 0BB, 7K
• Upshaw 2-4
• Boggetto 1-2, R, 2BB, CS
Steven Fuentes's three shutdown innings of relief kept the Power from reaching 15 or 20 runs as the Suns pitchers were lit up again for a 13-2 loss. Jackson Stoeckinger took the brunt of the beating with eight runs allowed on eight hits over four innings for his third loss in six starts. Four errors (two by Yasel Antuna) did not help and rendered three of the 13 runs unearned. Fuentes struck out seven of 11 batters faced to close out the game. Branden Boggetto reached base three times on a single and two walks while Armond Upshaw reached twice on two singles and Nick Banks on a single and a walk; the rest of the lineup was 2-for-24 with a walk.