First no-hitter since 2000 for the Chiefs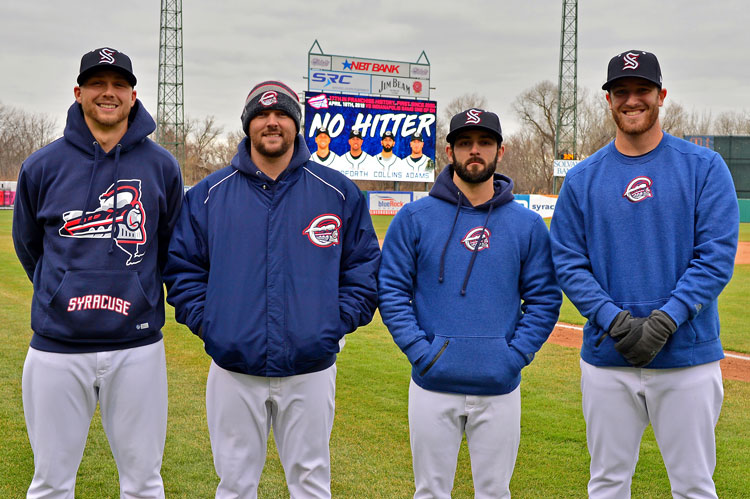 Team
Yesterday
Today
Pitching Matchup
Syracuse
Won, 5-0;
Won, 7-0
OFF DAY
N/A
Harrisburg
Lost, 5-4
(10 inn.)
vs. Reading,
12:00 p.m.
Long (1st AA start of '18) vs.
Waguespack (0-0, 4.50)
Potomac
Won, 9-5
vs. Lynchburg,
7:05 p.m.
Crowe (2-0, 3.60) vs.
Tully (1-0, 1.50)
Hagerstown
Lost, 8-4
@ Lexington,
7:05 p.m.
Alastre (0-0, 4.00) vs.
Snider (1-1, 2.31)
Syracuse 5 Indianapolis 0 – GAME ONE
• Voth 3IP, 0H, 0R, 0BB, 4K
• Goforth (W, 1-1) 2IP, 0H, 0R, 0BB, 0K, HBP
• Collins 1IP, 0H, 0R, BB, 2K
• Adams 1IP, 0H, 0R, 0BB, 2K
• Gosewich 3-3, RBI
• Marmolejos 2-3, R, BB, RBI
• Sanchez 2-4, 2B
Four Chiefs pitchers combined on a shutout of the Indians in the first game of the doubleheader. No hits were allowed – is there a name for that? Austin Voth went the first three and struck out four, David Goforth hit a batter but threw two, while Tim Collins and Austin Adams both tossed a scoreless inning and struck out two. Tuffy Gosewich led the Syracuse hit parade with three singles and an RBI, followed by Jose "Orange" Marmolejos with two singles and a walk.
Syracuse 7 Indianapolis 0 – GAME TWO
• Milone (W, 1-0) 5IP, 3H, 0R, 2BB, 5K; 1-2, RBI
• Gott 1IP, 1H, 0R, 0BB, 0K
• De Aza 3-4, R, RBI
• Falu 2-4, 2R
• Bautista 2-4, R, RBI, SB
Syracuse jumped on Indianapolis for five in the 1st and cruised to another shutout, 7-0, to sweep the doubleheader. Tommy Milone allowed five baserunners (3H, 2BB) and stranded them all while fanning five over five innings for the win, his first of the season. Jimmy Cordero and Trevor Gott both put up a goose egg to finish out the game. Alejandro De Aza singled three times, scored once, and drove in a run while Irving Falu and Rafael Bautista both went 2-for-4 to pace the Chiefs offense.
Reading 5 Harrisburg 4 (10 inn.)
• Rodriguez 6IP, 5H, 4R, 2ER, 2BB, 9K,
• Williams 3IP, 2H, 0R, 0BB, 3K
• Fleck (L, 1-2) 1IP, 1H, 1R, 0ER, BB, K
• Collier 2-5, 2R, 2B, HR, RBI
• Wilson 2-4, R, BB, HR, 2RBI
The Fightins got a one-out single in the top of the 10th to plate the runner put on to start the inning while the Senators had no answer in the bottom of the 10th for a 5-4 win. Jefry Rodriguez struck out nine over five innings but also let in four runs (two earned) on five hits for a no-decision. Austen Williams spun three scoreless to preserve the tie while Kaleb Fleck took the loss while issuing a walk in his single inning pitched. Zach Collier and Jacob Wilson both homered and combined for four of the nine Harrisburg hits on the night.
Potomac 9 Salem 5
• Mapes (W, 2-0) 6IP, 5H, 3R, 3ER, 3BB, 4K
• Pantoja (SV, 1) 3IP, 4H, 2R, 2ER, BB, 2K, HR
• Noll 2-4, 2R, RBI
• Mejia 2-4, 4RBI
• Master 1-2, 2R, 2BB, RBI, CS
Potomac got five in the 1st and four in the 5th and held off late charges by Salem for a 9-5 win the series finale. Tyler Mapes was strafed for three in the 1st but settled in for five scoreless to finish with a quality start of three runs allowed on five hits and three walks while fanning four over six innings. Jorge Pantoja closed it out with a wobbly two runs on four hits and a walk to get the rulebook save. Jake Noll and Bryan Mejia both went 2-for four and combined five RBI to lead the P-Nats attack.
Delmarva 8 Hagerstown 4
• Tetreault 5IP, 5H, 4R, 4ER, 2BB, 5K
• Johnston 3IP, 3H, 0R, 0BB, 3K
• Engelbrekt (L, 0-2) ⅔ IP, 4H, 4R, 4ER, 2BB, 1K
• Esthay 1-3, R, BB, HR, 2RBI
• Garcia 1-5, 3B, 2RBI, 2K, 0E
The Suns were eclipsed in the late innings yet again as the Shorebirds scored four in the 9th to complete the three-game sweep with an 8-4 win. Jackson Tetrault matched his season-best of four runs on five hits over five innings for the no-decision. Following three scoreless by Kyle Johnston, Max Engelbrekt retired just two of eight batters faced in the 9th to let in four runs and take his second loss of the season. Hagerstown drew eight walks and cashed in three of them on Luis Garcia's two-run triple in the 5th—the lone hit in eight RISP chances—and Kameron Esthay's two-run homer in the 7th but had just five hits total.