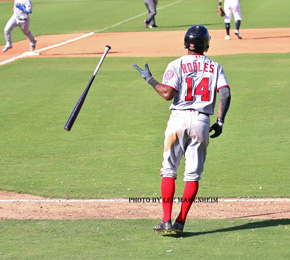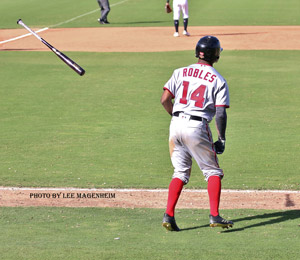 Victor Robles homered and discarded his weapon* to cap off a five-run 8th as the Solar Sox torched the Saguaros, 8-5.
Lee said the bat went 6′ up and 6′ away from Robles.
Robles also walked twice and stole twice in his first two AB's to finish 1-for-3 with a runs scored and three RBI. Defensively, he made five putouts while playing centerfield.
Taylor Gushue led off the 8th with his second fall homer and extended his hit streak to four games. The Mesa catcher also walked and had ten putouts (all K's).
Kelvin Gutierrez went 3-for-5 with a run scored while batting eighth and playing third base, where he had no chances.
Jimmy Cordero got the benefit of the outburst for pitching a scoreless bottom of the 7th, striking out two and keeping his ERA at 0.00 for his second fall win.
Mesa scored twice in the 9th to offset Dakota Bacus's ineffectiveness, as the "white ninja" let in three runs on five hits and no walks over the final two innings.
The Solar Sox return home to host the Saguaros this afternoon, then travel to Scottsdale tomorrow to finish out the fourth week of the 2017 AFL season.