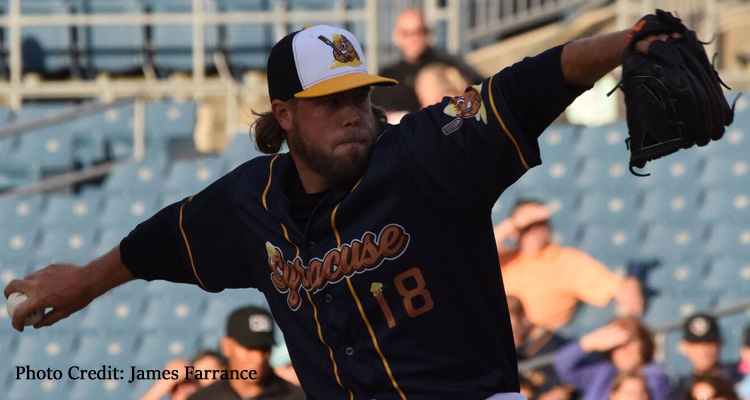 Team
Yesterday
Today
Probable Pitchers
Syracuse
Won, 9-4
vs. Rochester,
1:05 p.m.
Rogers (1-0, 0.00) vs.
Slegers (12-4, 3.13)
Harrisburg
Lost, 7-4
vs. Binghamton,
1:30 p.m.
Estevez (3-1, 3.77) vs.
Gsellman (MLB Rehab)
Potomac
Lost, 6-0
@ Winston Salem,
2:00 p.m.
Williams (2-3, 3.70) vs.
Dunning (4-5, 3.35)
Hagerstown
Won, 2-1
@ Lakewood,
1:05 p.m.
Bourque (5-6, 5.04) vs.
Medina (4-7, 3.24)
Auburn
Lost, 3-1
@ Williamsport,
5:05 p.m.
Raquet (0-1, 2.37) vs.
Garcia (3-2, 3.38)
GCL Nationals
OFF DAY
vs. GCL Mets
Syracuse 9 Rochester 4
• Severino 1-4, R, RBI
Syracuse a-salted Rochester for five runs in the 1st and never looked back in a 9-4 win, the fourth for the "Salt Potatoes" in five August games. Roster move: RHP Erick Fedde recalled to Washington.
Binghamton 7 Harrisburg 4
• Crownover 6IP, 6H, 2R, 2ER, 0BB, 1K
• Collins (BS, 1; L, 0-1) 1IP, 3H, 5R, 5ER, 2BB, 2K, HR
• Ward 2-4, R, HR(GS), 4RBI
• Robles 2-4, 2B
Drew Ward respects his elders but still smacked a granny in the 6th inning to give the Sens a 4-2 lead. Tim Collins gave it all back and then one more as Binghamton rallied for five in the 7th to take the game, 7-4. The meltdown ruined starter Matt Crownover's six innings of two-run ball on six hits and no walks with one whiff. Ward also singled to go 2-for-4, as did Victor Robles, who apparently appeased manager Matt LeCroy with four flyballs caught "the right way."
Winston-Salem 6 Potomac 0
• Reyes (L, 7-11) 2⅔ IP, 7H, 5R, 5ER, 2BB, 0K, HR
• Rivera 2IP, 0H, 0R, 0BB, 1K
• Page 1-2, 2B, BB
• Sagdal 1-3, 2B
Potomac continued its decade-long struggle with Winston-Salem at BB&T Park with another loss, a 6-0 shutout. Luis Reyes was booted before the end of the 3rd as the Dash lit him up for five runs on seven hits and two walks. It was a moot point, though, as three Winston-Salem pitchers combined to limit the P-Nats to three hits and three walks while striking out 13. Matt Page was the sole batter to reach base twice as he walked and doubled.
Hagerstown 2 Lakewood 1
• DeRosier (W, 1-2) 6IP, 7H, 0R, 0BB, 9K
• Morse (SV, 3) 1IP, 0H, 0R, 0BB, 2K
• Beckwith 1-3, R, BB, SB
• Ruiz 1-4, 2B, 3K
Three Suns pitchers combined to strike out 16 and walk none in a 2-1 win over the Blue Claws. Starter Matt DeRosier fanned nine over six shutout frames while giving up seven hits to earn the win. Hayden Howard added five more K's to the tally in his two innings while Phil Morse bounced back from a bad outing to strike out two and work around an error for the save. Tyler Beckwith singled, walked, scored a run, and stole a base to lead the four-hit, two-walk, two-steal, and two-sacrifice offense.
Williamsport 3 Auburn 1
• Crowe 2⅔ IP, 1H, 0R, 2BB, 4K, HBP
• Troop (L, 2-3) 4⅓ IP, 3H, 2R, 2ER, 2BB, 5K, HR
• Upshaw 1-3, RBI
• A. Martinez 0-3, R, BB, SB
Williamsport worked around four errors and outpitched Auburn, 3-1 to take the series opener. Wil Crowe got the start and was lifted with two out and one on in the 3rd after his 54th pitch. Alex Troop got the last out then gave up two runs on three hits over the next four innings to suffer the loss, his third. Armond Upshaw's RBI single to drive in Andres Martinez accounted for the Doubledays' lone run, as Auburn was held to three hits and three walks.
GCL Nationals – OFF DAY
The G-Nats won just one game this week but remain in first place in the GCL East by 2½ games over the G-Astros. Weather permitting, they'll play or complete seven games this week with one scheduled off day (Thursday).
DSL Nationals – UPDATE
The D-Nats split their six games this week but will be eliminated from the playoffs with their next loss or the first-place team's win. Three weeks remain in the season, which ends one week before the GCL ends, so if the Nationals are inclined to move anyone up for one more look, they have the opportunity.