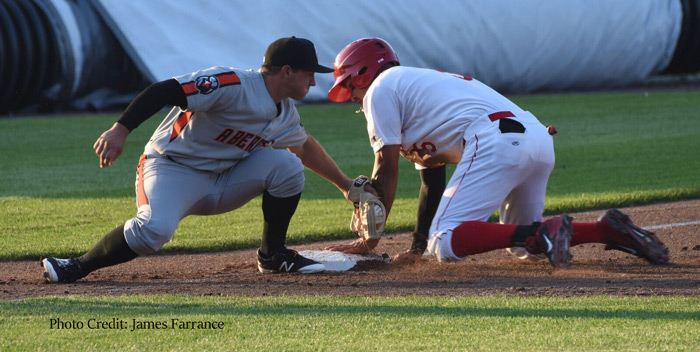 Team
Yesterday
Today
Probable Pitchers
Syracuse
ALL-STAR BREAK
ALL-STAR BREAK
N/A
Harrisburg
ALL-STAR BREAK
ALL-STAR BREAK
N/A
Potomac
OFF DAY
@ Salem,
7:05 p.m.
Silvestre (7-3, 4.31) vs.
Anderson (2-2, 5.05)
Hagerstown
OFF DAY
vs. Charleston,
7:05 p.m.
Bourque (4-3, 4.68) vs.
DeCarr (1-1, 6.75)
Auburn
Won, 12-5
vs. Aberdeen,
7:05 p.m.
Y. Ramirez (2-1, 3.21) vs.
Lowther (0-0, 0.00)
GCL Nationals
OFF DAY
vs. G-Mets,
12:00 p.m.
Syracuse – ALL-STAR BREAK
The Triple-A All-Star Game between the Pacific Coast League and the International League is in Tacoma, WA this year. Andrew Stevenson is the sole representative for the Chiefs.
Harrisburg – ALL-STAR BREAK
Manchester, NH plays host to the Eastern League All-Star game. Jose "Orange" Marmolejos, Raudy Read, John Simms, and Ryan Brinley will represent Harrisburg on the Western Division team.
Potomac – OFF DAY
The P-Nats embark on a seven-game road trip with a four-game set against the second-place Red Sox, then (yet another) series against the third-place Blue Rocks. Potomac already trails first-place Lynchburg by six games and continues to battle Frederick for fourth place in the C.L. North.
Hagerstown – OFF DAY
Hagerstown begins a brief three-game homestand against Charleston after losing three of four in Kannapolis. They'll then head back out on the road for three-city, nine-day road trip through KY, SC, and GA before returning on July 27. Roster moves: RHP Weston Davis reassigned from Auburn.
Auburn 12 Aberdeen 5
• Raquet 2⅓ IP, 4H, 3R, 2ER, BB, 4K, WP
• Troop (W, 1-0) 3⅓ IP, 5H, 2R, 2ER, BB, 4K, WP, 1-0 IR-S
• Collier 3-4, 2R, 3B, BB, 2RBI
• Severino 2-4, 2R
• Scudder 2-5, 3RBI
The Doubledays hit 'em hard, early, and late as they jumped out to a 7-3 lead after three en route to a 12-5 win over the IronBirds. Nick Raquet got the start but was ineffective: three runs let in on four hits and a walk over two and a 1/3rd innings. Alex Troop was only marginally better as he allowed two runs on five hits and a walks over three and a 1/3rd innings and was credited with the win. They both struck out four. Zach Collier would appear to be ready to return to AA as he reached base four times, scored twice, and drove in two to lead the Auburn assault.
GCL Nationals – OFF DAY
The G-Nats stand in first place at 9-3, up 2½ games over the G-Marlins and riding a four-game win streak.