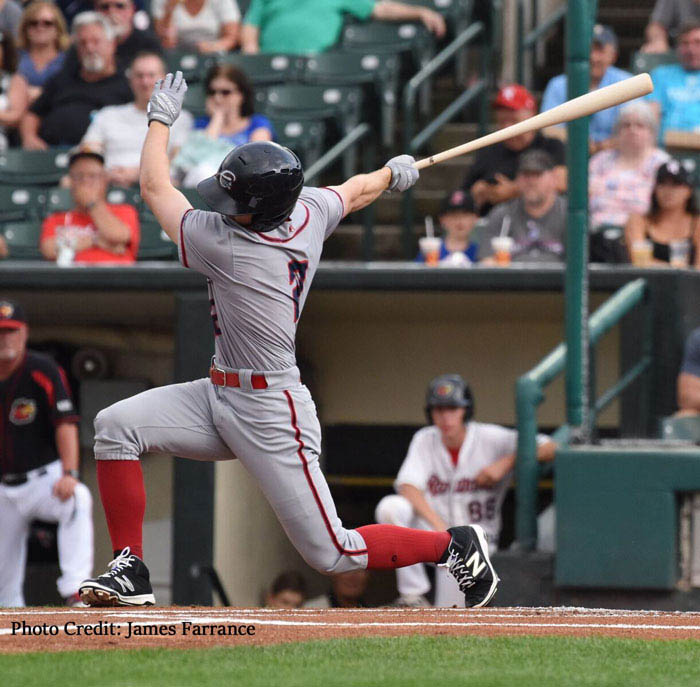 Team
Yesterday
Today
Probable Pitchers
Syracuse
Lost, 2-0
@ Rochester,
1:35 p.m.
O'Sullivan (1-1, 3.04) vs.
Haley (0-0, 4.50)
Harrisburg
Lost, 2-0
vs. Erie,
1:30 p.m.
McGowin (0-4, 9.45) vs.
Crouse (4-2, 4.75)
Potomac
Won, 4-1
vs. Wilmington,
1:05 p.m.
Williams (1st A+ start of '17)
vs. Castillo (5-4, 2.84)
Hagerstown
Postponed
@ Kannapolis,
3:00 p.m.
M. Mills, M (10-2, 2.39) and
Sharp (4-6, 3.30) vs.
Peralta (0-2, 12.27) and
Valerio (1-0, 2.38)
Auburn
Won, 3-2
@ State College,
6:05 p.m.
DeRosier (1-1, 2.12) vs.
Balestrieri (0-0, 3.18)
GCL Nationals
Won, 11-1
@ GCL Cardinals, 10:00 a.m.
Rochester 2 Syracuse 0
• Fedde 3IP, 0H, 0R, 0BB, 4K, 37-25 PIT-K
• Stevenson 1-4, R (9G hit streak)
You can unbundle your undergarments just a little as Erick Fedde threw three perfect inning his in his second AAA start as he eases back into starting. Andrew Stevenson (pictured above from Friday night) extended his hit streak to nine games with a single.
Erie 2 Harrisburg 0
• Simms (L, 3-6) 6IP, 3H, 2R, 2ER, 3BB, 4K, HR
• A. Robinson 2IP, 1H, 0R, BB, 4K
• Hernandez 3-3, BB
• Abreu 1-3, BB
John Simms continues to pitch well and have little to show for it as the Sens were shut out, 2-0. Simms turned in his tenth quality start with both Seawolves runs allowed on three hits and three walks while striking out four to take the loss. Andrew Robinson added two scoreless and Scott Boras favor Francisco Rodriguez added one to keep it close. Yadiel Hernandez reached base four times with three singles and a base-on-balls; the rest of the team was 2-for-27 with four walks.
Potomac 4 Wilmington 1
• Borne (W, 4-3) 7IP, 2H, R, ER, BB, 7K
• Bacus (SV, 3) 2IP, 0H, 0R, 0BB, 3K
• Davidson 2-4, 2B, 2RBI
• Gamache 1-3, R, BB
Potomac evened up the series with a 4-1 win Last Night in Woodbridge
Kannapolis vs. Hagerstown – PPD
Well, at least there will be four less innings for the bullpen to cover today as the Suns play yet another doubleheader, thanks to their 11th rainout of the season.
Auburn 3 State College 2
• W. Davis 4IP, 3H, 0R, 0BB, 5K
• D. Smith 3IP, 4H, 2R, 2ER, 2BB, 2K
• Barenett 2IP, 2H, 0R, 0BB, 2K
• Collier 1-2, 2R, HR, BB, 2RBI, HBP
• Jo. Ramirez 1-4, R, 2B
Zach Collier's two-run HR in the 7th broke a 1-1 tie as Auburn held on for 3-2 win over State College. Weston Davis made the start and went four scoreless innings, allowing three hits and no walks while striking out five. David Smith gave up both Spikes runs on four hits and two walks but was credited with the win. Jake Barnett worked around a pair of sinlges in the final two innings to pick up the save. Roster moves: C Pedro Severino assigned from Syracuse for MiLB rehab; there is no indication as to why he was pinch-hit for in the 1st inning.
GCL Nationals 11 GCL Marlins 1
• Alastre (W, 1-0) 5IP, 4H, R, ER, 0BB, 6K
• Morales 2IP, 0H, 0R, BB, 4K
• Falcon 2-4, R, 2B, 3RBI
• Caulfield 2-4, R, BB, RBI
• L. Garcia 2-5, 2R, HR, RBI
The G-Nats put up big innings three times as they lay waste to the G-Marlins, 11-1. Tomas Alastre gave up the lone G-Marlins run on four hits and went five innings to get the win. He walked none and struck out six. Santo Falcon led the ten-hit parade with a single, double, and three RBI. Roster moves: 2017 Draft Picks assigned from Washington – OFs Justin Connell (11th Rd.) and Eric Senior (13th Rd.), C Alex Dunlap (29th Rd.), 2B Phil Caulfield (32nd Rd.).