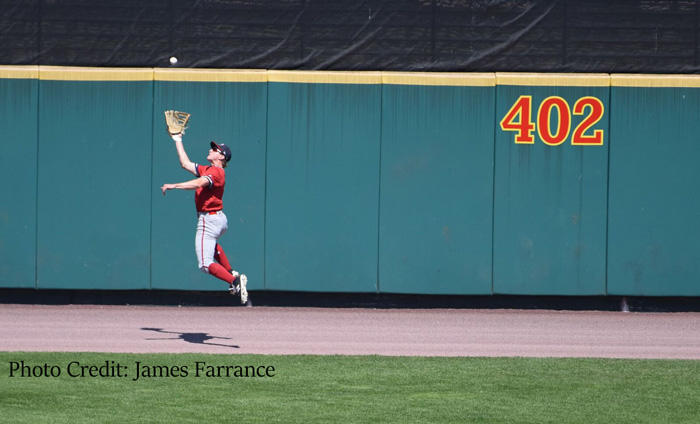 Team
Yesterday
Today
Probable Pitchers
Syracuse
Lost, 8-2
ALL-STAR BREAK
N/A
Harrisburg
Lost, 7-4
ALL-STAR BREAK
N/A
Potomac
Lost, 3-1
vs. Wilmington,
12:05 p.m.
Guilbeau (2-1, 3.88) vs.
Puckett (7-7, 4.11)
Hagerstown
Lost, 3-2;
Lost, 3-2
@ Kannapolis,
7:05 p.m.
M. Mills (10-2, 2.39) vs.
Hickman (1-3, 4.39)
Auburn
Won, 13-12
(12 inn.)
OFF DAY
N/A
GCL Nationals
Won, 4-3
vs. GCL Astros, 12:00 p.m.
Rochester 8 Syracuse 2
• Stevenson 1-3, R, BB (10G hit streak)
Erie 7 Harrisburg 4
• McGowin (L, 0-5) 4IP, 8H, 7R, 6ER, 3BB, 4K, HR, WP
• Valdez 3IP, 2H, 0R, 0BB, 2K
• Ward 2-4, R, HR, 3RBI
• Lowery 1-2, 2B, 2BB, RBI
Drew Ward smacked a three-run HR to give Harrisburg a 3-2 lead. After that, it was all Erie for a 7-4 Seawolves win over the Senators. Kyle McGowin lost for the fifth time in five AA starts with all seven runs coughed up on eight hits and three walks over four innings thrown. Ward also singled to go 2-for-4 while Jacke Lowery reached base three times with a pair of walks and a double to lead the Harrisburg offense.
Wilmington 3 Potomac 1
• Williams (L, 0-1) 4IP, 1H, 1R, 0ER, 0BB, 3K
• Mendez 1IP, 1H, 0R, 0BB, 1K
• Mejia 1-4, 2B
• Carey 1-3
The Blue Rocks edged the P-Nats, 3-1 as the two teams combined for eight hits and 20 total bases. Austen Williams took the loss with one unearned run allowed on one hit over four innings. Jack Sundberg walked, took third on a Bryan Mejia double, and scored on a grounder to short to break up the shutout bid.
Kannapolis 3 Hagerstown 2 – GAME ONE
• Pena (L, 4-5) 5IP, 4H, 3R, 3ER, BB, 4K, HR, HBP
• Howard 1IP, 0H, 0R, 0BB, 0K
• Neuse 2-3, 2B
• Corredor 2-3
Kannapolis got to Carlos Pena early and built a 3-0 lead that Hagerstown couldn't overcome for a 3-2 loss. Pena gave up all three Intimidator runs on four hits and a walk over five innings. He struck out four while losing his fifth game. Sheldon Neuse and Aldrem Corredor both went 2-for-3 to pace the Suns offense.
Kannapolis 3 Hagerstown 2 – GAME TWO
• Sharp 5IP, 3H, 0R, 2BB, 2K
• J. Mills (H, 1; L, 4-2) ⅔ IP, 1H, 3R, 3ER, 2BB, 0K
• Peterson (BS, 3) ⅓ IP, 1H, 0R, 0BB, 0K, 2-2 IR-S
• Franco 1-2, RBI
• Perkins 1-3, R, BB
The Suns couldn't hold a 2-0 lead as the Intimidators got three in the bottom of the 6th to complete the doubleheader sweep with another 3-2 win. Sterling Sharp did his part with five scoreless innings and just five baserunners allowed (3H, 2BB). The loss (and hold) went to Jordan Mills who put on three baserunners with a hit and two walks while Tommy Peterson let in the tying and deciding run for his third blown save. Blake Perkins was the sole Hagerstown hitter to reach base twice with a single and a walk.
Auburn 13 State College 12
• DeRosier 4⅓ IP, 4H, 3R, 2ER, 3BB, 3K
• McKinney ⅔ IP, 4H, 6R, 6ER, 3BB, 1K, 0HR
• Engelbrekt (W, 1-1) 3⅓ IP, 1H, 0R, BB, 3K, 1-0 IR-S
• Encarnacion 3-7, R, 2B, 2RBI, OF assist at 3B
• Je. Baez 2-4, 2RBI
• Bogetto 2-6, 2B, 2RBI
Jeremy McKinney may have taken the "someday you could be pitching out of the bullpen in DC" speech a little too literally as he failed to hold a six-run lead in the 9th and retired just two of nine batters faced. Max Engelbrekt stopped the bleeding and pitched three more scoreless and was rewarded with a "W" as Kameron Esthay smacked a pinch-hit HR to give Auburn a 13-12 win in 12 innings. Matt DeRosier started and gave up the first three State College runs on four hits and three walks over four and a 1/3rd innings for the no-decision. Randy Encarnacion led the 'Days 15-hit parade with two singles and double while driving in two.
GCL Nationals 4 GCL Cardinals 3
• Ma. Pena 4IP, 4H, 3R, 3ER, BB, 5K, HR
• Ramirez (W, 1-0) 1IP, 0H, 0R, 0BB, 0K
• L. Garcia 5-5, R, 2B, RBI
• Antuna 2-4, 2B, BB, 2RBI, E(7)
The G-Nats got four runs early and five scoreless innings from the 'pen to edge the G-Cards, 4-3. Malvin Pena allowed all three runs on hour hits and a walk while fanning five. Nector Ramirez was somehow given the win for a single scoreless inning pitched (vs. two by Angel Guillen) while Jared Johnson earned the save with two scoreless innings pitched and four whiffs. Luis Garcia went 5-for-5 with a double, a run scored, and an RBI while Yasel Antuna doubled, singled, walked, and drove in two to account for eight of the 13 G-Nat baserunners.