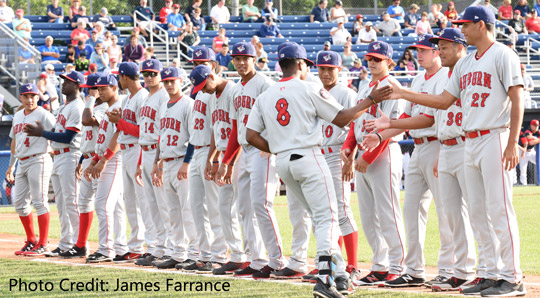 Team
Yesterday
Today
Probable Pitchers
Syracuse
Won, 5-2
vs. Buffalo,
6:35 p.m.
Antolin (2-3, 6.44) vs.
Harrell (0-0, 0.00)
Harrisburg
Won, 2-1
@ New Hampshire,
7:05 p.m.
Simms (2-4, 3.68) vs.
Dawson (1-6, 5.43)
Potomac
ALL-STAR BREAK
vs. Carolina,
7:05 p.m.
TBD vs. TBD
Hagerstown
ALL-STAR BREAK
vs. Greensboro,
7:05 p.m.
TBD vs. King (4-4, 3.82)
Auburn
Won, 3-2
@ Mahoning Valley,
7:05 p.m.
German (1-2, 4.70 @ GCL in '16) vs.
G. Vasquez (5-2, 3.18 @ AZL in '16)
Syracuse 5 Scranton/Wilkes-Barre 2
• O'Sullivan (W, 1-1) 6IP, 4H, 2R, 2ER, 2BB, 5K, HR
• Suero (S, 3) 2IP, 2H, 0R, 0BB, 3K
• Stevenson 3-5, R, RBI, 3SB
• Burris 2-4, R, 2RBI
• Sanchez 2-4, R, 2B
Andrew Stevenson wreaked havoc and ran amok as the Chiefs took the finale, 5-2 and split the four-game series with the RailRiders. The 23-y.o. CF went 3-for-5 with three stolen bases, a run scored and an RBI to lead the Syracuse attack. Sean O'Sullivan turned in a quality start of two runs on four hits and two walks over six innings for his first win of the season. Sammy Solis put one goose egg for the hold while Wander Suero put up two for the save.
Harrisburg 2 New Hampshire 1
• Estevez (W, 2-0) 6IP, 3H, R, ER, 0BB, 8K
• Brinley (SV, 5) 1IP, 1H, 0R, 0BB, 0K
• Sandford 2-4, R
• Keller 2-4
Wirkin "For the Weekend" Estevez got just enough offense and three scoreless innings from the 'pen to take his second straight AA start, a 2-1 Harrisburg win over Richmond. Estevez struck out a season high of eight with nary a base on balls as he pitched six innings of one-run ball on three hits. Brady Dragmire, Phillips Valdez, and Ryan Brinley each worked around a hit in a single inning of work to earn holds for Dargmire and Phillips and a save for Brinley. Darian Sandford and Alec Keller both singled twice while Jose "Orange" Marmlejos and Neftali Soto each drove in a run. Roster move: RHP Taylor Hill reassigned from Syracuse.
Potomac – ALL STAR BREAK
The P-Nats and Mudcats rematch for four games this weekend to kick off the second half. Potomac came within one game of .500 before dropping its final two games of the half and will face a tough road to the playoffs, as they'll play the Carolina League's top four teams of the first half 39 times in 70 games.
Hagerstown – ALL STAR BREAK
Hagerstown also starts with a clean slate and plays a second-half schedule that's weighted heavily toward its own division (53 of 70). They begin at home against the Grasshoppers, who finished a half game behind the Suns in 4th place and two behind the Intimidators, who took the pole position by percentage points over second-place Lakewood.
Auburn 3 Mahoning Valley 2
• Y. Ramirez (W, 1-0) 6IP, 5H, R, ER, BB, 6K, WP
• M. Pena (SV, 1) 3IP, 7H, R, ER, BB, 4K
• Vilorio 3-4, R
• Meregildo 1-3, R, BB
• Ortiz OF assist at HP
The Doubledays got three in the 3rd and were outhit 12-6 but edged the Scrappers, 3-2. Yonathan Ramirez allowed the first Mahoning Valley run on five hits and a walk while striking out six to earn the win. Malvin Pena was strafed for seven hits for over three innings for the second run but earned the save. The Scrappers had the tying run thrown out at home to end the 7th and at third to end the game. Luis Vilorio led the Auburn hit column with a 3-for-4 night while Omar Meregildo and Armond Upshaw both singled and walked; all three scored a single run. Roster move: LHP Yonathan Ramirez demoted from Hagerstown.