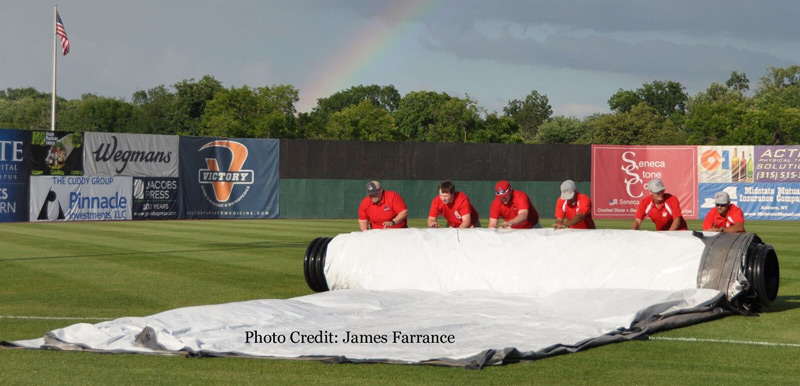 Team
Yesterday
Today
Probable Pitchers
Syracuse
Won, 6-5
vs. Buffalo,
1:05 p.m.
Cole (3-2, 5.68) vs.
House (6-6, 3.70)
Harrisburg
Won, 6-5
@ Portland,
1:00 p.m.
Hill (2-1, 6.00) vs.
Villanueva (1-2, 10.67)
Potomac
Lost, 3-2
vs. Carolina,
1:05 p.m.
Reyes (5-6, 4.75) vs. TBD
Hagerstown
Won, 9-5
vs. Greensboro,
2:05 p.m.
Watson (4-2, 3.29) vs.
Mahoney (2-2, 1.88)
Auburn
Won, 7-6
(11 inn.)
vs. Williamsport,
6:05 p.m.
DeRosier (0-1, 9.00) vs.
Armas (0-1, 6.75)
Syracuse 6 Buffalo 5
• G. Ross 5⅓ IP, 6H, 5R, 5ER, 2BB, 3K, 2HR
• Suero (W, 1-0) 1IP, 0H, 0R, 0BB, 1K
• Burriss 3-4, R, RBI
• Robinson 3-5, 2B, RBI
• De Aza 2-4, R, BB, RBI
The Chiefs continue to not lose, taking their fourth straight with another walkoff, 6-5 over the Bisons. Starter Greg Ross was ineffective, giving up all five Buffalo runs on six hit and two walks over five and a 1/3rd innings. The win went to Wander Suero, capping off three and 2/3rds of scoreless relief from the Syracuse 'pen. Alejandro De Aza plated the game winner with a bases-loaded single in the 9th after a Brandon Snyder walk, a Clint Robinson single and an intentional walk to Neftali Soto. Robinson and Burriss both had three hits to lead the Chiefs' offense.
Harrisburg 6 Portland 5
• Eitel 5IP, 3H, 2R, 1ER, 5BB, 2K, WP
• Brinley (BS, 1; W, 4-4) 1IP, 3H, 3R, 3ER, BB, K, HBP
• Robinson (SV, 2) 1IP, 0H, 0R, 0BB, 1K
• Read 2-4, 2R, 2B, HR, BB, 4RBI
• Norfork 2-3, BB
Raudy Read bailed out Ryan Brinley's three-run meltdown in the 8th with a two-run homer in the 9th for a 6-5 Harrisburg win over Portland. Brinley was lit up for three runs on three hits and a walk in just one inning but got the blown-save-win. The save went to Andrew Robinson with a 1-2-3 ninth. Derke Eitel started and pitched five innings of one-run ball on three days' rest. Jose "Orange" Marmolejos also homere while Read also doubled and drove in four to lead the Sens offense.
Carolina 3 Potomac 2
• Guilbeau (L, 1-1) 6IP, 7H, 3R, 3ER, 0BB, 5K
• Schepel 3IP, 0H, 0R, 0BB, 6K
• Sundberg 2-4, 3B, RBI
• Page 1-3, BB
One bad inning was enough for the P-Nats to lose Last Night in Woodbridge.
Hagerstown 9 Greensboro 5
• Bourque (W, 2-3) 5IP, 7H, 5R, 3ER, 3BB, 2K
• Howard (H, 2) 3+ IP, 1H, 0R, 0ER, BB, 3K
• Reetz 2-3, R, HR, HBP, 2RBI
• Perkins 2-3, 2R, 2B, 2BB, RBI
• Beckwith 2-3, 2R, BB
The Suns took a magnifying glass to the 'Hoppers as they scored seven times in the first three innings and put the game away with two in the 8th for 9-5 win. James Bourque got the Jack Morris win with all five Greensboro runs allowed on seven hits and three walks over five innings. Hayden Howard pitched three scoreless innings and went to the mound in the 9th for the four-inning save but was pulled after putting the first two runners on. Tommy Peterson stranded them both while quashing the rally for the save. Telmito Agustin was the beer man (hombre de las cervezas?) in Hagerstown's 12-hit, four-walk assault, led by Blake Perkins with two hits and two walks.
Auburn 7 Williamsport 6 (11 inn.)
• Alastre 4IP, 6H, 3R, 2ER, 3BB, 3K
• Barnett (W, 1-0) 3IP, 3H, 0R, 0BB, 2K
• Meregildo 2-4, R, 2B, HR, BB, RBI
• Ortiz 2-4, R, HR, RBI
• Simonetti 2-5, R, RBI
The Doubledays walked off in the 11th as they took advantage of the Crosscutters' fifth error for a 7-6 win. Joshual Ramirez reached on a botched catch and scored as Jeyner Baez doubled to left. The sequence made a winner out of Jake Barnett, who tossed three scoreless innings of relief. Tomas Alastre made the start and was touched for three runs on six hits and three walks over four innings. Omar Meregildo and Oliver Otiz both went 2-for-4 with HR and an RBI to pace the Auburn attack.
DSL Update
The D-Nats are now 5-13 after a 2-4 week. SSDL – the starters have an ERA of 2.86 while the relievers are a Kelley-esque 6.81. As you might have already guessed, the offense is 36th in the 40-team DSL, averaging 3.78 runs per game. Two (2) of the three (3) players with an .800 or better OPS are in their third season in the DSL.