Team
Yesterday
Today
Probable Pitchers
Syracuse
Lost, 7-5
vs. Scranton/Wilkes-Barre,
6:35 p.m.
Edw. Jackson (0-0, 2.78) vs.
Ro. Herrera (AAA debut)
Harrisburg
Won, 11-4
vs. Reading,
6:30 p.m.
Crownover (0-2, 6.64) vs.
Leibrandt (6-2, 3.34)
Potomac
Lost, 7-4
@ Myrtle Beach,
7:05 p.m.
Sanburn (2-1, 3.81) vs.
Alzolay (6-1, 2.83)
Hagerstown
Won, 8-3
@ Delmarva,
7:05 p.m.
C. Pena (3-3, 5.85) vs.
Humpal (4-5, 4.15)
Auburn
Won, 9-5
vs. Williamsport,
7:05 p.m.
Turnbull (0-0, 0.00) vs.
Stewart (0-1, 2.25)
Buffalo 7 Syracuse 5
• Cole 4IP, 8H, 4R, 3ER, 2BB, 3K, 0HR
• Fedde 2IP, 1H, 0R, 0BB, 1K
• Suero (BS, 1; L, 1-1) 1⅓ IP, 4H, 3R, 3ER, BB, 3K
• Stevenson 3-5, R, HR, 2RBI
• Solano 1-4, 2B, 2RBI
• Falu 1-3, R, BB, 3B, RBI
After a scoreless 8th, Wander Suero put on four straight baserunners before recording an out in the 9th as Syracuse's four-game win streak was stampeded by Buffalo, 7-5. A.J. Cole got the start and was strafed for four runs on eight hits and two walks over four innings in his first appearance in two weeks. Erick Fedde followed with two scoreless innings of middle relief for his second straight clean outing. Andrew Stevenson extended his hit streak to a modest six games while connecting for his first AAA home run as he went 3-for-5 to lead the Chiefs' attack. Roster move: RHP Austin Voth placed on the 7-Day DL.
Harrisburg 11 Portland 4
• Hill (W, 3-1) 6IP, 8H, 3R, 2ER, BB, 3K, HR(20)
• Orlan 1IP, 0H, 0R, BB, 2K
• Perez 3-5, R, 2B
• Norfork 2-4, R
• Ward 2-5, 2R, HR, BB, 2RBI
The Sens broke out for three runs in the 4th and 6th innings as they took the series finale, 11-4 from the Sea Dogs. Taylor Hill gave up his customary HR—No. 20—and eight hits total for three runs over six innings as he won for the third time since his demotion. Drew Ward and Mario Lisson both homered while Stephen Perez went 3-for-5 with a double and a run scored to lead Harrisburg's 15-hit outburst.
Carolina 7 Potomac 4
• Reyes (L, 5-7) 5⅔ IP, 10H, 5R, 5ER, 2BB, 1K, HBP, WP, BK
• Rivera 1⅓ IP, 0H, 0R, 0BB, 2K, 1-0 IR-S
• Sagdal 2-3, 2B, BB
• Robles 2-5, R, 3B, RBI
Carolina scored early and often (again) as they got three in the 1st and one in the 2nd to take a 4-0 lead and cruised to a 7-4 win to take the series from Potomac, 3-1. Luis Reyes lost for the seventh time as he gave up five runs on ten hits and two walks over five and 2/3rds innings. Ian Sagdal singled, doubled, and walked while Victor Robles singled and tripled to lead the P-Nats offense.
Hagerstown 9 Greensboro 5
• Watson (W, 5-2) 6IP, 4H, R, ER, 0BB, 10K
• Held 1IP, 0H, 0R, 0BB, 2K
• Johnson 3-5, 2R, 2HR, 3RBI
• Noll 3-4, R, 2-2B
• Banks 2-4, R, 2B, HR, 2RBI
Tyler Watson returned from a two-week layoff to record six strong innings and struck out a career-best 10 while the Suns burned the 'Hoppers for five homers in a 9-5 win. Watson let in one run on four hits and no walks to win for the fifth time. Dan Johnson hit HR nos. 15 and 16 while Sheldon Neuse went deep for #8, Blake Perkins left the yard for #6, and Nick Banks deposited his third longball as part of a 14-hit parade by Hagerstown.
Auburn 9 Williamsport 5
• DeRosier (W, 1-1) 7IP, 5H, 1R, 0ER, 0BB, 3K, 2HBP
• Mota 2-4, 2R, HR, 2RBI
• A. Martinez 2-4, R, 3B, 2RBI
• Upshaw 2-4, 2R, 2B, BB, RBI
Matt DeRosier pitched a career-high seven innings while the bats came alive in a 9-5 Auburn win over Williamsport. DeRosier let in an unearned run on five hits, struck out three, and walked none to win his first NYPL game of 2017. Israel Mota, Andres Martinez, and Armond Upshaw each went 2-for-4 with a homer, triple, and double respectively as the Doubledays collected 10 hits total.
Editor's Note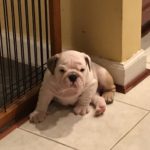 For those of you not on the Twitters, we've taken on an intern. While I'm not a fan of either the ESPN blowhard or the Bengals/Jets QB, the name "Boomer" just seemed to fit. He's eight weeks old today and he'll eventually take over some of Louisville's duties as she approaches retirement.