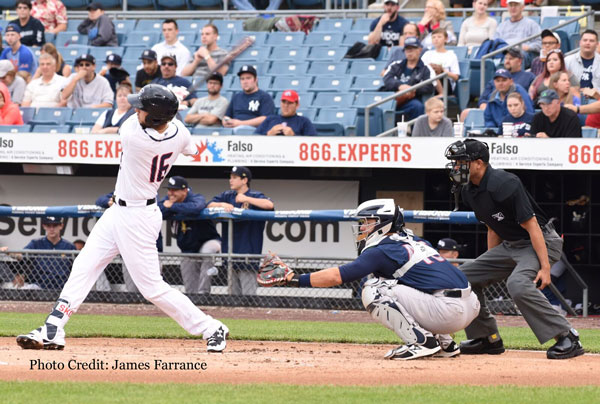 Team
Yesterday
Today
Probable Pitchers
Syracuse
Lost, 7-6
@ Buffalo,
6:35 p.m.
Cole (3-2, 5.75) vs.
House (6-6, 3.99)
Harrisburg
Lost, 7-1
@ Binghamton,
7:05 p.m.
Hill (3-1, 5.54) vs.
Jannis (5-3, 4.17)
Potomac
Won, 5-1
@ Buies Creek,
7:00 p.m.
Reyes (5-7, 4.97) vs.
F. Perez (3-2, 2.85)
Hagerstown
Won, 6-3
@ Lakewood,
7:05 p.m.
Watson (5-2, 3.13) vs.
Medina (2-6, 3.69)
Auburn
Lost, 7-4
@ State College,
7:05 p.m.
German (0-0, 3.60) vs.
MaVorhis (0-0, 8.10)
GCL Nationals
Won, 3-1
vs. GCL Astros,
12:00 p.m.
Scranton/Wilkes-Barre 7 Syracuse 6
• Skole (pictured above) 1-4, R, BB, K
• Stevenson 0-5
Roster moves: 1B Matt Skole activated from the 7-Day DL; Brandon Snyder named to the I.L. All-Star team as a reserve.
Reading 7 Harrisburg 1
• McGowin (L, 0-3) 5IP, 7H, 6R, 3ER, 3BB, 3K, 2HR, HBP
• Cordero 1IP, 1H, 0R, BB, 0K
• Hernandez 1-3, R, HR, RBI
• Perez 1-3, BB
Yadiel Hernandez homered in the bottom of the 2nd to tie it at 1-1 but it was all Reading the rest of the way in a 7-1 win over Harrisburg. Kyle McGowin lost for the third time in three AA starts as he was charged with six runs (three earned) on seven hits, including two HR's, and three walks. He struck out three and hit a batter. Stephen Perez reached base twice with a walk while Darian Sandford singled to round out the Sens' tally of three hits.
Potomac 5 Myrtle Beach 1
• Guilbeau (W, 2-1) 7IP, 5H, 0R, BB, 4K, HR
• J. Mills 1IP, 0H, 0R, 0BB, 0K
• Sagdal 3-5, 2R, 2-2B
• Masters 2-3, R, 2B, BB, 3RBI
• Gamache 2-5, R, RBI
The P-Nats dropped a four-spot in the 1st and dropped the Pelicans 5-1 in the series finale. Taylor Guilbeau pitched seven scoreless innings, allowing five hits and one walk, and struck out four to win his second game. Jordan Mill added an eighth goose egg in the 8th but Mariano Rivera lost the shutout with a run in the 9th. Ian Sagdal singled once, doubled twice, and scored twice while David Masters drove in three to lead the Potomac offense. Roster moves: IF Austin Davidson placed on the 7-Day DL, retroactive to June 24; IF Dan Gamache assigned from Washington.
Hagerstown 6 Delmarva 3
• Bourque (W, 3-3) 6⅓ IP, 6H, 3R, 2ER, 3BB, 4K, HR, WP
• Simonds (H, 1) 1⅔ IP, 2H, 0R, 0BB, 4K, 1-0 IR-S
• Noll 2-4, 2R, 2HR, 3RBI
• Johnson 1-3, R, 2B, RBI, CS(9)
• Reetz 1-3, R, BB, 2K, PB(10)
Hagerstown doubled up Delmarva to complete the four-game sweep and extend its win streak to seven. James Bourque pitched into the 7th and let in three runs (two earned) on six hits and three walks for his third win. Kyle Simonds stranded a runner while finishing the 7th and pitched a scoreless 8th for the hold while Tommy Peterson set the side down in order, two by way of the K, for his seventh save. Jake Noll homered twice and drove in three to lead the Suns' attack.
State College 7 Auburn 4
• German (L, 0-1) 4⅓ IP, 2H, 5R, 4ER, 7BB, 1K, HBP, 3WP
• Eusebio 2IP, 3H, 0R, 0BB, 1K
• Bogetto 3-4, 2-2B, HR, 2RBI
• Panaccione 3-5, R, HR, RBI
• Esthay 2-5, R, HR, RBI
The Doubledays could get 'em on (12 hits) and bang a gong (three HR) but couldn't get 'em in (0-7 RISP) as they fell to the Spikes, 7-4 in the series finale. Jhonatan German hit the Maginot Line in the 5th and took the loss as he allowed five runs (four earned) on two hits and seven walks over four and a 1/3rd innings. He also hit a batter and threw three wild pitches. Brandon Boggeto, Paul Panaccione, and Kameron Esthay each homered and combined for eight of the 12 Auburn hits and drove in all four runs. Roster moves: 2017 Draft Picks – C's Nic Perkins (28th Rd.), Anthony Peroni (14th) and OFs Kameron Esthay (26th), Jonathan Pryor (19th) assigned from Washington.
GCL Nationals 3 GCL Cardinals 1
• Troop 2IP, 0H, 0R, 0BB, 2K
• Smith (W, 1-0) 1⅓ IP, 1H, 0R, 0BB, 0K, 3-0 IR-S
• McKinney (H, 1) 2IP, 2H, 0R, 0BB, 3K
• Cramer 2-4, R
• R. Mendez 1-2, R, 2B
The G-Nats have yet to lose in three games as they folded the G-Cards, 3-1 yesterday afternoon. Ninth Rd. pick Alex Troop started and turned in two perfect innings with two K's. The win went to Dirtbag David Smith who stranded three in the 5th and worked around a single in the 6th. Jackson Cramer singled twice to lead the hit column of just six.