Final AFL Stats & Thoughts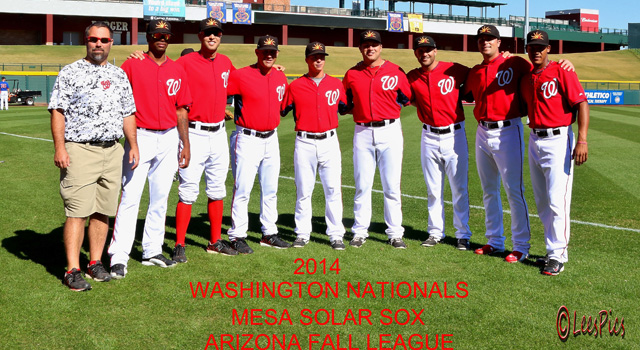 One last look before we close the books, beginning with the stats…
BATTERS
| | | | | | | | | | | | | | | |
| --- | --- | --- | --- | --- | --- | --- | --- | --- | --- | --- | --- | --- | --- | --- |
| PLAYER | G | AB | R | H | 2B | 3B | HR | RBI | BB | SO | AVG | OBP | SLG | SB |
| Tony Renda | 22 | 85 | 12 | 17 | 3 | 1 | 0 | 7 | 3 | 19 | .200 | .233 | .259 | 1 |
| Pedro Severino | 12 | 44 | 1 | 11 | 2 | 1 | 0 | 5 | 2 | 7 | .250 | .292 | .341 | 0 |
| Spencer Kieboom | 10 | 34 | 3 | 11 | 2 | 0 | 1 | 7 | 5 | 4 | .324 | .390 | .471 | 0 |
PITCHERS
| | | | | | | | | | | | | | | |
| --- | --- | --- | --- | --- | --- | --- | --- | --- | --- | --- | --- | --- | --- | --- |
| PLAYER | W | L | SV | ERA | G | GS | IP | H | R | ER | HR | BB | SO | WHIP |
| Felipe Rivero | 2 | 4 | 0 | 6.08 | 7 | 7 | 23⅔ | 26 | 18 | 16 | 2 | 11 | 15 | 1.56 |
| Derek Self | 1 | 0 | 0 | 1.20 | 9 | 0 | 15 | 12 | 2 | 2 | 0 | 5 | 6 | 1.13 |
| Neil Holland | 1 | 2 | 0 | 10.80 | 8 | 0 | 11⅔ | 20 | 14 | 14 | 1 | 8 | 8 | 2.40 |
| Matt Grace | 0 | 0 | 0 | 3.18 | 10 | 0 | 11⅓ | 10 | 4 | 4 | 0 | 5 | 8 | 1.32 |


Now for the thoughts…
• Renda started cold, got hot, and then finished cold. What to make of it? Nothing, really. Renda is your starting second baseman at Harrisburg come hell or high water (knock on wood – ow, that's my head!). With the big club rumored to be shopping at 2B, Renda will get a little more scrutiny and mention, and his poor showing could lead to some fun assumptions from beat writers who don't know Tony Renda from Tony Rendon.
• Kieboom picked up where he left off at Hagerstown and did well despite limited playing time, though I suspect this was done to ease the burden on the catchers. Like Renda, he was going to move up regardless of his performance this fall.
• Severino cooled off some from his hot second half, which is hardly a surprise. He'll still be the starting catcher at Harrisburg next spring. With longtime backups Sandy Leon and Jhonatan Solano out of options, there's clearly some hope that his offense will catch up to his defense by 2016, if not sooner.
• As with all of these players, we're looking at tiny sample sizes sight-unseen. Rivero was pounded in his first five starts, then terrific in his last two (combined: 10IP, 2R, 1ER, 2BB, 7K). With an injury-shortened regular season, the hope is that the October version was Rivero getting healthy and the November version is the one that will show up next April in Harrisburg.
• Self had the best fall of the three relievers, at least in terms of traditional stats of ERA and WHIP. What's troubling is the guy who only walked 18 in 66⅔ innings this past summer gave up five BB's in 15IP this fall. Six whiffs is also well below his usual K rate. But again, small sample size here.
• Holland was the analog to Self, with just three scoreless outings out of eight and 14 runs charged to him in the other five. He wasn't auditioning for the 40-man roster — 2013 was his first year of Rule 5 eligibility — but didn't help his chances to begin 2015 in AAA, where he spent three weeks in July.
• Grace is interesting case (hey, that rhymes!) as he had a terrific 2014 and could replace Xavier Cedeno as the boomerang lefty between 'Cuse and DC. While it's specious to say he's competing with other lefthanded prospects for a 40-man spot, the Nats have already cut ties with one talented-but-can't-stay-healthy southpaw, would they cut another to make room for Grace?