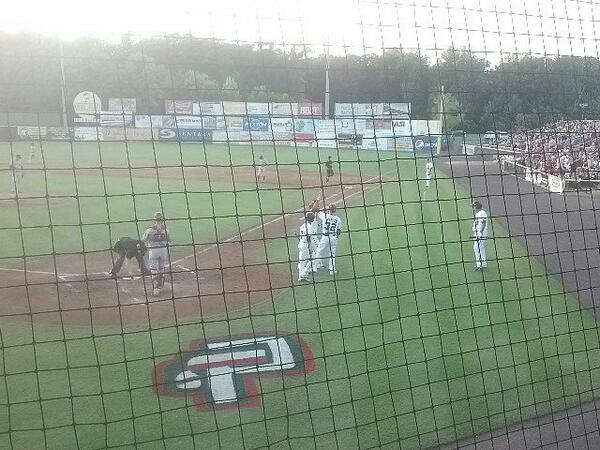 Rehabbing major-leaguer Wilson Ramos sliced a three-run home run to cap off a four-run 3rd as Potomac defeated Salem, 5-2 before a reported crowd of 7,804 last night in Woodbridge.
Ramos, who was joined in the lineup by some kid named Bryce Harper (single in 1st, walk in the 3rd, made a putout in LF), also doubled and went 3-for-4 on the night. Nursing a hamstring strain, the 26-y.o. Venezuelan ran like Mark DeRosa, but faster gingerly but obviously didn't need to run very much as he hit the ball hard.
The DC backstop also had an influence with the pitching of Dakota Bacus, whose start was somewhat obscured by all the hype and hullabaloo. The 23-y.o. went seven innings and scattered eight hits, with no walks and two strikeouts to win his third game of the season.
Also not likely to be found outside this space: a terrific night by Will Piwinica-Worms, who made diving catch to end the 2nd, doubled to start the four-run rally in the 3rd and singled in the 4th for an RBI.
Despite the score, defense factored in the outcome as both teams turned three double plays and Potomac narrowly missed a fourth to offset the 20 hits between the two teams. Take away the Ramos HR and you're looking at a very close ballgame that Potomac may have only won by a 2-1 count, assuming the usual outfield alignment and not Oscar Tejeda playing left field after Harper left, which led to an unearned run in the 8th off Travis Henke.
Gilberto Mendez, persumably the closer with the promotion of Robert Benincasa, worked around a pair of hits in the 9th to close it out and earn his fourth save.
The win improves Potomac to 3-1 in the second half and was their third straight. Tonight, Austin Voth is scheduled to make his High-A debut, opposed by Pat Light (1-3, 6.06) for Salem. Both Ramos and Harper are expected to play again, with Harper reportedly in center field for five innings while Ramos catches again for nine innings.