Ed. Note: Julie Goldberg, a veteran minor-league team employee for several teams over the past nine seasons — including the Hagerstown Suns in 2005 and the Potomac Nationals currently — gives us this dispatch from the Legends-Suns game last night in Hagerstown.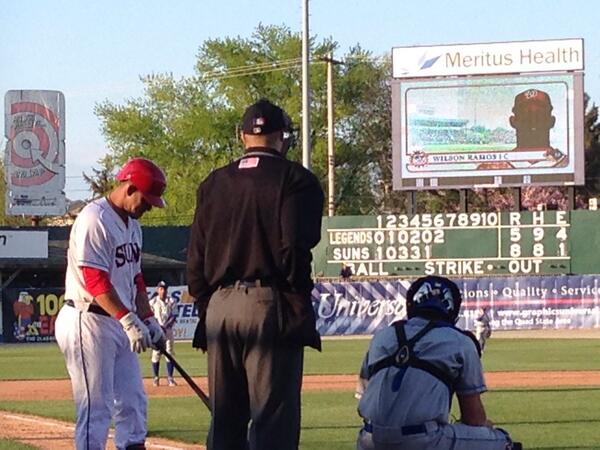 Hagerstown, MD – The Hagerstown Suns put on a balanced offensive show in a 10-8 win over the Lexington Legends Sunday evening at Municipal Stadium. The win improves the Suns' record to 21-7 in 2014 and keeps them 5½ games ahead of the Greensboro Grasshoppers in the South Atlantic League's Northern Division standings.
Seven of Hagerstown's batters got at least one hit during the game, led by Wilson Ramos, who was making his first rehab start since going on the disabled list for the parent club on April 1st. Ramos went 2-for-3, with a home run and three runs batted in.
The Suns got their offense going early against Legends LHP Cody Reed. After shortstop Wilmer Difo reached on an error, he scored on Ramos's base hit to score the game's first run in the bottom of the 1st.
The Legends tied the game in the 2nd and the Suns retook the lead in the 3rd. Following walks to Rafael Bautista and Difo, Ramos put the Suns up by a score of 4-1 with a three-run home run over the right field wall.
It was a back-and-forth battle in the middle innings as the Legends answered with two runs of their own in the 4th inning off of Suns' RHP Lucas Giolito. In the bottom half of the inning, Hagerstown first baseman John Wooten led off with a solo home run. The Suns tallied two more runs in the 4th after Willie Medina reached on an error and then later scored. Bautista was then hit by a pitch and scored the Suns' third run of the inning on Difo's sacrifice fly to extend the Hagerstown lead to 7-3.
The Suns added to their lead in the 5th inning after right fielder Estarlin Martinez walked to lead off the inning.He later scored on Medina's sacrifice fly. With the bases loaded in the 6th inning, Isaac Ballou scored on Drew Ward's force out at second base. Martinez then drove in Difo on a sacrifice fly to make the score 10-5.
Lexington would then tack on two unearned runs in the seventh and another unearned run in the 8th before RHP Ryan Ullman closed out the game in the 9th inning. Ullman pitched the final 3 2/3 innings to record his third save of the season.
Giolito pitched five innings, allowing three runs on six hits and two walks while striking out five and improved his record to 2-0 on the season.
Hagerstown closes out their homestand tonight against Lexington with first pitch at 6:35 p.m.