Editor's note: Ever wonder what it's like at the minors camp? Well, so have I, so when site regular SoulDrummer offered to write a first-person narrative, how could I say no?
My brother and I recently had the pleasure of attending Nationals Spring Training this past Saturday. I love baseball. It has gotten me through one of the most challenging parts of my life. This "vacation," however, will likely be a launchpad to greatness because I was so inspired by this beautiful game and the wonderful personalities that make up the Washington Nationals.
I had hoped to watch baseball on Friday and spend all day at Nats camp. Sadly, it was an off day for the boys. No games. No baseball after morning practice. I did go to the compound, picked up a free issue of Baseball America, the schedule, and plotted my revenge on the baseball gods for not having my favorite players available at my beck and call. I was going to get up early so I'd be able to watch the players practice.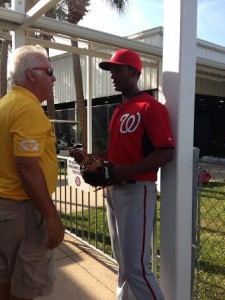 My brother and I woke up promptly and got to camp around 9:30 a.m. on Saturday. We had resolved to hit minors camp in the morning and catch most of the big club's game in the afternoon. Simply put, the day is a blur of baseball joy. Right away we got to watch some of the AA/AAA players getting on the bus to head to the away game against Detroit. I got a great pic of Michael Taylor and let him know that I've got him pegged for MVP of the Eastern League and an September callup this year.
I then hit the field and watched the players do their drills. You meet great, similar hardcore fans doing this. Antonio is a fabulous guy local who supports the Venezuelan minor-leaguers. He befriended and supported Alcides Escobar when he barely knew English and received the joy of watching Escobar play as a major-leaguer and thank him as a countryman for helping with a hand up not a handout. Got a great pic of the man's Omar Vizquel autograph. He had gotten the autograph at Tigers game recently because Omar is now coaching for the Tigers.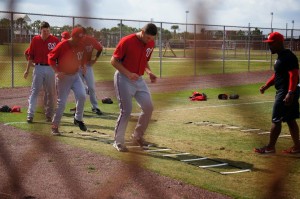 But of course the Nats players were the best. Yes, I did stalk Giolito for about 20 minutes because I knew that you guys would be interested. I clowned him and called him "twinkletoes" for his footwork during the pitchers' agility drills. He took it in good fun, though. I said that I was giving him a hard time because I know that he gets revenge on everybody else with his blazing fastball. I also let him know that I hope to see him in Harrisburg for my late summer trip and that I know he's going to have a great year.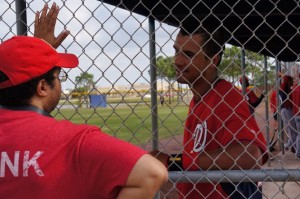 Drew Ward impressed me the most. This kid looks like a man, but he just turned 19. And he is so, so, fan friendly. The pic to the right is me talking to him through a fence. Drew was thankful that I followed him, and I expressed how grateful I was to Mike Rizzo for taking a chance on this high school kid. I asked him what he would study if he had gone to college, and he said "baseball, baseball, baseball." Imagine being his age, blessed with otherworldly talent, and getting to spend all of his time immersed in the culture of the game that he loves. We are blessed to have Drew Ward as a young prospect, and I am optimistic that he will build on his progress and "master the level" to warrant a midseason promotion. What a preternatural kid.
After failing to catch a home run ball at the fence during batting practice (it was low minors so the players didn't have as much pop), I went to the central area where you can see several fields and hung out and waited for the game to start. The Detroit Tigers got there first so I decided to whip out my cell phone and play DJ with them for a couple of minutes. I played "Oye Come Va," a country song by request that I can't remember, "In the Stone" by Earth Wind and Fire, before regaling them with an impromptu karaoke version of "One In a Million You." Baseball builds connections. Turns out my karaoke standard was the wedding song of one of the coaches. He's been happily married for 30 years. What a blessing to meet such great people for the opposition.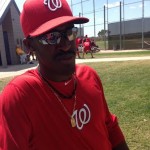 The game finally started and I got to watch Jake Johansen throw some smoke. But I didn't really spend that much time watching the game. Other pitchers from the squad were hanging out, and I was eager to connect with Deion Williams. Deion is making the transition from shortstop to pitcher, and it was fascinating getting his impressions on Johansen's work. I told him that I would try to make him a star on Nationalsprospects.com so here's his pic!
After watching the game for an inning or two, I figured I should join my brother, the Mets fan, at Space Coast and we watched that game. Spinner hit a walk off homer and Bryce had two hits in a one-run victory!
What a day.