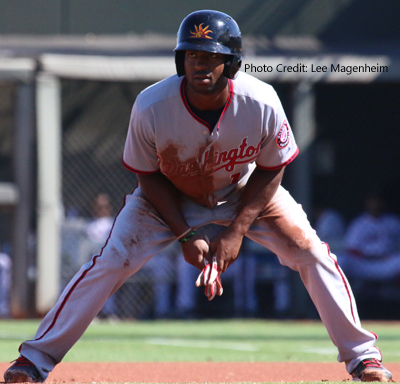 Mesa scored three times in each of the first two innings and cruised to a 9-4 win over Surprise.
Matt Purke got the start and survived a rocky first inning in which southpaw issued a walk then back-to-back singles with two outs before righting the ship with a strikeout. Purke put on a runner in each of his four innings to finish with two runs allowed on five hits and two walks. He struck out three while throwing 71 pitches, 42 for strikes to earn his third "W" of the fall.
Brian Goodwin once again batted second and played centerfield but went just 1-for-5 at the plate. Defensively, he snagged two flyballs.
Steve Souza Jr. made his second allotted appearance of the week. He singled twice, scored twice, and stole his tenth base to push his line to .368/.442/.421. He has hit safely in nine contests and reached base in all ten games he's played in.
Richie Mirowski also appeared in the game, retiring all six batters he faced in the 7th and 8th innings with two strikeouts. In eight appearances, he's thrown 11 innings with two runs (both earned) and nine baserunners allowed (7H, 2BB) for a 1.64 ERA and a 0.82 WHIP.
The win keeps pace with second-place Salt River, which remains just a ½ game behind in the AFL East with its third consecutive victory. Surprise still leads the AFL West by 2½ games over second-place Glendale, which has four won straight to stave off elimination from a berth in the AFL Championship game on the 16th.
The Solar Sox have not announced any starters for the final four games, thus leaving open the possibility for Sammy Solis or Purke to start the AFL Championship game should Mesa make it (or either to pitch on Thursday in a do-or-die situation).