AFL Update: Oct. 23, 2013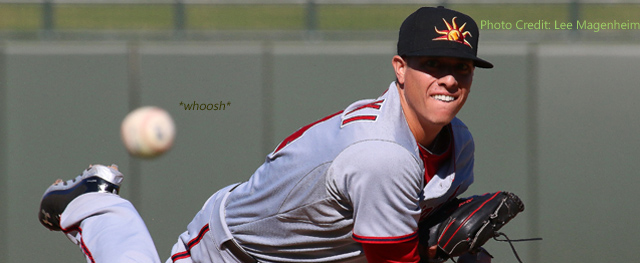 Adrian Nieto scored the go-ahead run in the top of the 7th, but the Solar Sox 'pen faltered in the bottom half as they lost to the Saguaros, 4-2.
Nieto continues to swing a hot bat as a righthanded batter, going 1-for-2 with a run scored from the left side of the batter's box and 0-for-1 with a walk from the right side. The 23-y.o. backstop also picked off a runner off 1st with two on and two out, pairing with teammate Matt Skole to end the bottom of the 6th.
Skole went hitless for just the second time in six games, but drew a walk to keep his on-base streak alive. The 24-y.o. notched 10 putouts without an error.
Brian Goodwin shifted to left field on defense, where he caught two flyballs, and went 1-for-3 with a walk and a run scored from the No. 2 spot in the lineup.
Richie Mirowski (pictured) set 'em down in order in the bottom of the 8th on nine pitches, six of them going for strikes.
The loss drops Mesa to 8-3-1 for the fall campaign, 2½ games in front of Scottsdale, which won its 4th straight yesterday. The two teams square off this afternoon in Scottsdale with Matt Purke scheduled to make his third start.
BONUS COVERAGE:
Our intrepid AFL correspondent and photographer caught up with Sammy Solis after yesterday's 9-6 win that improved him to 3-0: