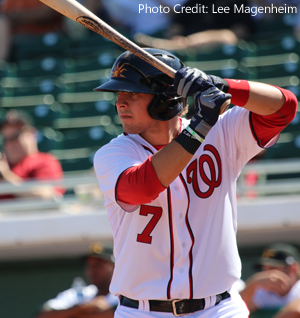 After battling back from deficits of 3-0 and 9-5, the Solar Sox were finally eclipsed with two runs in the 9th for an 11-9 loss to the Sagauros.
Matt Skole took a day off from the field but saw plenty of first base as the 24-year-old singled once and walked three times while batting from the no. 5 spot in the lineup. The Mesa DH came around to score twice but only had one RBI, in part because cleanup man Kris Bryant swatted two home runs in front of him.
Adrian Nieto caught for the third time this week but had three bases stolen against him, including a pair by fellow Carolina Leaguers Tyler Naquin and Jorge Alfaro*. Batting righthanded, Nieto singled in Skole in the 2nd and drew a walk in the 3rd. As a lefty, he went 0-for-2 with a walk to finish the game 1-for-3 with 2BB.
* Coincidentally, Naquin gunned down Nieto at the plate and Alfaro caught him stealing.
The loss was Mesa's first of the season, lowering their record to 7-1-1 and cutting their lead to 4½ games over both Salt River and Scottsdale. Tonight, they host Surprise to finish out the week.