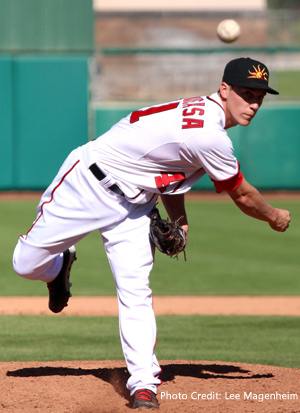 Sammy Solis won his second start while the Mesa Solar Sox won their fifth straight, taking a 7-4 matinee from the Scottsdale Scorpions.
Solis struck out eight of 15 batters faced while giving up a run on three hits and two walks over four innings. The lone run was a solo shot by Mets farmhand Cory Vaughn (son of Greg, not Mo). The 25-y.o. southpaw threw 68 pitches, 43 for strikes.
Matt Skole got the start at third base, where he fielded a popup in the 2nd and started an inning-ending 5-4-3 DP in the 7th. At the plate, the former Yellow Jacket batted cleanup and went 1-for-3 with a double and a run scored a run while taking a pair of walks.
Robert Benincasa (pictured) pitched the 7th inning and gave up a run on a leadoff walk and two singles before getting the aforementioned twin-killing groundball.
The win improves Mesa to 5-0-1 as the Solar Sox travel to Surprise this afternoon to take on Peoria. Matt Purke, who followed Solis in the Mesa rotation last week, is scheduled to start tomorrow night at home versus the Javelinas.