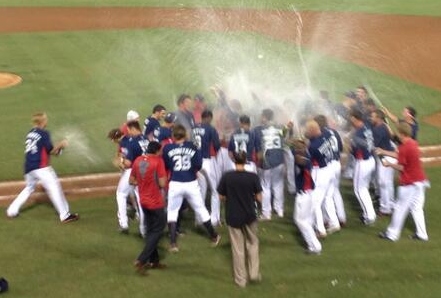 Will Piwnica-Worms was a late addition to the playoff roster, but contributed for the second straight night with a two-out single in the 9th to give the P-Nats a 3-2 walkoff win and their third trip to the Mills Cup Finals in the last six seasons.
Kevin Keyes, who had doubled to left off Lynchburg reliever Jose Lugo in the 6th, cranked one off the right field wall with one out in the 9th for his second two-bagger. Despite having struck out three times previously, Brandon Miller was given an intentional pass in favor of a possible double play by Randolph Oduber.
The Groovin' Aruban became the 7th P-Nat to go down by way of the K versus Jugo, which brought Piwnica-Worms to the plate. Lynchburg backup backstop Anthony Nunez, who hadn't let up a passed ball in 18 games with the Hillcats during the regular season, let one go off his glove to move up the runners 90 feet.
The miscue proved fatal as Piwnica-Worms guided a seeing-eye single between first and second, sending in Keyes for the gamewinner.
Blake Schwartz "only" went eight innings, giving up both Lynchburg runs on eight hits but walked none and struck out five. Greg Holt got the win, working around a leadoff walk in the 9th with a flyout and two ground outs, assisting on the final out himself, 1-3.
In the Carolina League Southern Division series, the Salem Red Sox swept the Myrtle Beach Pelicans two games to none with a 4-3 win in 10 innings. The Sox will come to town tomorrow night for the best-of-five Mills Cup Championship, their first appearance since being swept by Lynchburg in 2009. Potomac was the 2008 and 2010 Carolina League Champions, defeating Myrtle Beach and Winston-Salem, respectively, three games to one.
Pitching matchups for the Finals have not yet been formally announced, but Potomac's rotation will most likely be Matt Purke in Game One on Saturday, Paul Demny in Game Two on Sunday and Sammy Solis in Game Three in Salem on Tuesday with Schwartz and Purke going for Games Four and Five (if necessary, and also in Salem) on Wednesday and Thursday.