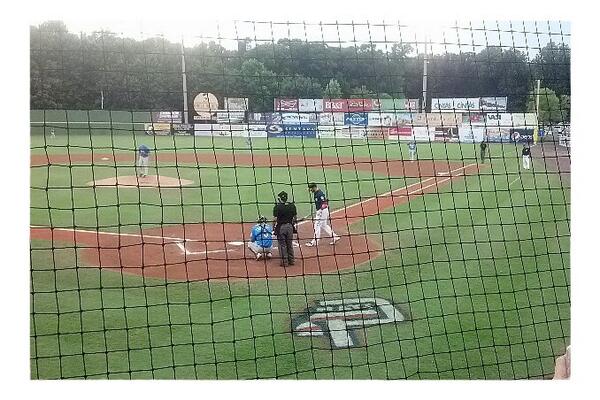 Perhaps it was the season in microcosm — minus the rehab appearance by Bryce Harper, of course — as the P-Nats got good starting pitching, uneven bullpen work, and timely hitting in a 6-5 win over Myrtle Beach.
All eyes of course were on the 20-year-old Bryce Harper and he did not disappoint, launching a towering flyball in his second at-bat that hit the first level of signage above and beyond the right field wall. He was originally scheduled to play LF, but switched to DH shortly before gametime as storms swept through the region, though it did not appear as if any significant rainfall had accumulated.
Harper's HR was the second of the evening. The first was Adrian Nieto's, a solo blast that cleared all three tiers of signage in the second inning.
Brian Rauh got the spot start in place of Taylor Hill, and filled in admirably with four innings of one-hit ball, walking none and striking out three. He was to be followed by Brian Broderick, who warmed up in the bottom of the 4th and took the mound in the 5th but left during warmups, clutching his right forearm.
David Fischer was summoned on short notice to take over and seemed none the worse for wear in his first inning of work, walking two and striking out two but allowing no hits. The second inning, however, was another story as a hit batsmen, a generously scored single, a walk, a triple, and another single sent him to the proverbial showers with no outs.
Greg Holt let in the runner he inherited with an errant pickoff throw and a sacrifice fly to finish the 6th and pitched around a leadoff single and one-out double — thanks in no small part to Nieto gunning down the leadoff hitter — in the 7th for two scoreless innings.
Down 5-2 in the 8th, the P-Nats began one of their patented runs. Three straight singles by Michael Taylor, Nieto (who went 4-for-4), and Caleb Ramsey cut the deficit to 5-3. Following a Cutter Dykstra strikeout, Adrian Sanchez beat out a double-play ball while Mike Gilmartin drew the two-out walk to load the bases.
Francisco Soriano tied the game with a two-run single up the middle while Billy Burns plated the go-ahead run with a double to left, with Soriano getting thrown out at the plate to end the inning.
Richie Mirowski, who had taken over for Holt in the 8th, set 'em down 1-2-3 in the 9th to get his 6th win of the season.
The series and homestand concludes tonight with a matchup of Ivan Pineyro (0-0, 9.64) vs. Victor Payano (5-4, 4.41)