Sunday Afternoon In Woodbridge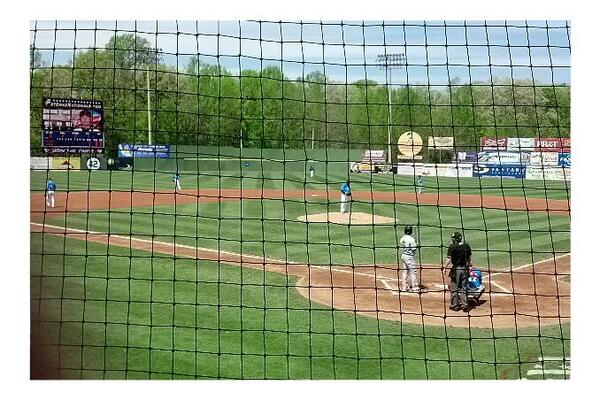 Adrian Nieto's flare to shallow left with two outs in the 8th plated two to break a 1-1 tie and help the P-Nats return to .500 with a 3-1 win over Frederick.
Three Potomac pitchers combined for 15 strikeouts, though they also walked six. Starter Robbie Ray went six-plus innings allowing one run on two hits, with four walks and ten strikeouts — four of them looking. He was working with slightly lower velocity, but his command (the four free passes not withstanding) was significantly better as he worked with well with the fastball, curve, and change.
Indeed, the "plus" was the one time Ray did not retire a leadoff batter in seven innings. Matt Grace, the first man out of the Potomac 'pen, was greeted with by Frederick's Travis Adair with a single that first-year first baseman Kevin Keyes couldn't snare and which pushed the runner Grace inherited to third.
Though it won't show up in the box score, Billy Burns snagged the next batter's liner on the run for a sacrifice fly that tied things up at 1-1. Grace stranded his runner with a groundout and the first of his four K's over two innings.
Potomac got on the board first in the fourth with a near repeat of yesterday's game one, leading off with a single and trotting home on Michael Taylor double as the 22-year-old again waited on a curve and served it down the left field line for an RBI double.
The gamewinner came in dramatic, almost bipolar fashion in the last if the 8th for what we like to call a "sportswriter's win." Pinch-hitter Caleb Ramsey led off with a walk and was pushed to second on a picture-perfect bunt by Burns that went justpast the pitcher and died on the grass before the second baseman, who could see it coming… but couldn't stop it.
An errant pickoff throw took away the need for Taylor to bunt, and instead he walked to load the bases with nobody out. Cutter Dykstra flew out to shallow right, then Jason Martinson, who had two infield hits on a 2-for-3 afternoon, struck out. But before folks could lament the missed opportunity, Nieto saved the day — none too late after striking four times in his last six at-bats.
Richie Mirowski came on in the top of the 9th to close things out and issued a two-out walk but got pinch-hitter Brenden Webb to ground out to short to end it.
It's a swing down 95 to Zebulon and Myrtle Beach this week for the 8-8 Potomac squad, as they play four against the Mudcats and three against the Pelicans before returning home to face the same two teams for the same number of games next week.