Rendon, Marrero Go Deep In 6-2 Nats Win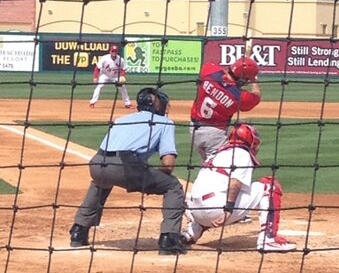 Three Nationals hit home runs, including prospects Anthony Rendon and Chris Marrero, as the Washington nine tripled up the St. Louis Cardinals, 6-2 yesterday afternoon.
The big fly was the first for Marrero and Ian Desmond, both solo shots smacked into the left-to-right wind that was officially listed at 9 m.p.h., but described as gusting by Jeff Bridges after three glasses of bourbon KMOX radio man Mike Shannon and beat reporters on Twitter.
Rendon's two-run circle clout came in the Nats four-run second that put the game away early and gave Gio Gonzalez the "win" for his three innings of work, in which he gave up two runs on five hits and a walk but struck out none.
Nathan Karns made his second appearance for an inning as the first man out of the 'pen, but against major-leaguers (as opposed to the Mets, natch) loaded the bases on a hit and two walks but stranded them after a visit to the mound by pitching coach Steve McCatty. No word on whether McCatty reminded him about the death of Babe Ruth and the efficacy putting the ball over the plate.
More encouraging, however, was the three innings by Ryan Perry that followed against the Cardinals reserves: three innings pitched, two hits allowed, seven of nine outs on the ground. Drew Storen and Erik Davis closed out the game with scoreless inning apiece, though Storen loaded the bases on two hits and a walk while Davis set 'em down in order.
Rendon and Marrero both went 2-for-3 with two RBI as the starting corner infielders. Notable minor-leaguers coming off the bench…
…DH Sandy Leon pinch-hit and went 0-for-1
…SS Zach Walters went 0-for-1
…LF Carlos Rivero went 0-for-1
…1B Matt Skole drew a walk
…RF Destin Hood went 0-for-1 with a K
…3B Mike "Don't Call Me George" Costanzo pinch-ran and went 0-for-1
…CF Michael Taylor went 0-for-1
After the game, CF Eury Perez was named as a replacement for Yankees OF Melky Mesa on the Dominican Republic's entry in the World Baseball Classic. With LF Jimmy Van Ostrand also leaving to represent Team Canada, one has to wonder if CF Brian Goodwin will make an appearance soon despite previous stories noting that the Nats are (again) having him focus on small-ball skills.
The Nats and Cards rematch this afternoon at 1 p.m. in Viera before the first of three scheduled off days tomorrow.