Nats Drop Back To .500 With 5-1 Loss To Cards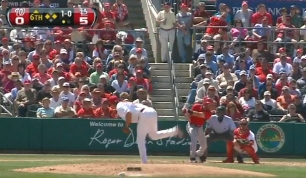 St. Louis had its way with starter Dan Haren, roughing up the veteran for four runs on two home runs in the first and five runs overall to hand Washington a 5-1 defeat this afternoon.
Haren gave up six hits and two walks overall across the five innings he threw in his fourth spring appearance. Yunesky Maya was the first man out of the 'pen, leading a trio of relievers who each turned in a scoreless inning and limited the Cardinals to just two hits (both given up by Ryan Mattheus in the 7th).
Chris Marrero (1-for-4), Carlos Rivero (0-for-4, 2K), Corey Brown (1-for-3), Micah Owings (2-for-2), and Zach Walters (1-for-3) were the nos. 5-9 batters in the lineup and accounted for all five hits the Nats would register for the game.
Pinch-runner Steve Souza scored the lone run as a pinch-runner for Owings, as Walters pushed him to third with one out and leadoff man Steve Lombardozzi plated him with a groundball to third and reached first safely when Ryan Jackson's throw was too askew for second baseman Ronny Cedeno to attempt a throw to first.
Ricky Hague (PR-2B), Jhonatan Solano (C), Caleb Ramsey (LF), and Carlos Maldonado (PH-DH) also came off the bench but none got a hit. Ramsey reached on an error with one out in the 9th, followed by Maldonado drawing a pinch walk to set up a first-and-second situation for Marrero, but the rally was quashed with a groundout from the first baseman and popup by Rivero to end the game.
With the loss, the Nationals fall back to .500 at 9-9-2 in the Grapefruit League thus far this spring. It's an evening tilt tomorrow night at 6:05 p.m. against the Astros in Viera. MASN alone has the broadcast.