The BA Prospect Handbook, Part One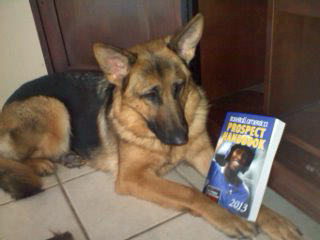 The 2013 Baseball America Prospects book is here and the staff is reviewing it. As much as I like to bash BA, I can't ignore them, either. Like it or not, when it comes to prospects, the conversation starts with them. Fine by me, because I think the recent anointing of the Brothers Upton is proof positive that baseball fans are desperate for winter to end (that, and lately, narrative in sportswriting has been cheap and easy).
Like last year, I'm doing multiple posts to spread out the material and have fodder for discussion.
As mentioned in the comments, I was shocked to see that the system came in at #16 — I was expecting somewhere in the mid-20s. And this does not include the return of A.J. Cole. Much like 2011, the folks in Durham really approved of the gamble taken with the drafting of Lucas Giolito.
Let's take a look at what happened to last year's Top 26 (remember, the Gio Gonzalez trade happened after the book went to press).
Graduated (3) — Bryce Harper, Steve Lombardozzi, Tyler Moore
Rule 5 Draft, Taken (2) — Jeff Kobernus, Danny Rosenbaum
Traded (2) — Alex Meyer, David Freitas
Dropped Out (4) — Kylin Turnbull, Cole Kimball, Kevin Keyes, Adrian Sanchez
So a little more than than half (15/26) of last year's list is the same. Half of it has been signed since GM Mike Rizzo has become GM. One-fifth (6) are IFAs signed by the Nationals. A bit more of a mild surprise: six of the thirty will be 25 or older by midseason, which is somewhat of an indictment of Washington's collegiate drafting bias, but one would have thought that more these guys would have been passed over in favor of 2012 draftees.
Today, I'll leave you with the Top 15 Prospects listed in the book, then pass along 16-30 in Part Two. Where applicable, last year's ranking is in parentheses:
1. Anthony Rendon, 3B (2)
2. Lucas Giolito, RHP
3. Brian Goodwin, OF (5)
4. Matt Skole, 3B (21)
5. Nathan Karns, RHP
6. Christian Garcia, RHP
7. Eury Perez, OF (22)
8. Sammy Solis, LHP (8)
9. Matt Purke, LHP (7)
10. Zach Walters, SS (19)
11. Michael Taylor, OF (14)
12. Tony Renda, 2B
13. Taylor Jordan, RHP (31)
14. Jason Martinson, SS/3B (25)
15. Sandy Leon, C (24)