Season Review: 2012 Harrisburg Senators
Going into the Eastern League All-Star Game, Harrisburg was 48-40 — good for second place in its division, having had an eight-game win streak broken with a 4-1 loss on July 9th.
It would be nearly a month before the Senators won back-to-back games again.
They went 16-38 in the second half, falling from second place to fifth place by the end of July for their worst finish (64-78) since the ghastly 2007 edition that went 55-86.
Injuries, as you might expect, were a factor. Twenty-nine-year-old Tim Pahuta led the team in games played with 121. Starters Destin Hood, Chris Rahl, and Jeff Kobernus — none of whom were promoted — played in 94, 92, and 82 games respectively. But as Geoff Morrow pointed out in his final of four segments on the team, the inability to hit when it mattered most is what truly killed the Senators in 2012:
The Senators' .202 batting average with two outs and runners in scoring position wasn't just dead last in the 12-team EL, it easily ranked last among all 30 Class AA teams (including the Southern and Texas League teams). Their .239 average with runners in scoring position was last in the EL and 28th overall.
Perhaps that might be enough said, but let's do the dance anyway, starting with how Harrisburg's team totals compared to the rest of the Eastern League:
HITTING



PITCHING



Not too hard to figure out what the problem was. The pitching wasn't great, a notch below the league average. But the hitting was atrocious — 11th in runs, RBIs, walks, batting average, on-base percentage, and slugging percentage. Take away the power from graybeards Pahuta and Jimmy Van Ostrand and the legs of Eury Perez and Kobernus, along with Rahl who provided both, and this team would have probably finished 11th or 12th in HRs and SBs, too (somehow, they finished dead-last in doubles).
Perhaps more disturbing is looking at the pitchers by age. As a group, the 24 and unders were 28-32 with two saves, but with a 4.92 ERA and 1.492 WHIP over 488⅓ innings. Contrast that to the 26+ group, and you get marks of 20-29 and 12, 4.13 and 1.335 over 468⅓ innings. The league average age was 24.5, so when you add in the 25-year-olds, those numbers improve to 44-49, 27 and 4.22 and 1.399 over 775 innings.
The problem is that those 25-year-olds were 16-17, 25 and 3.01 and 1.238 over 286⅔ innings. That's pretty good, but look at who those pitchers are: Erik Davis, Ryan Perry, Hector Nelo, Trevor Holder and Brian Broderick. In other words, guys that for the most part either were or should have been in AAA. Maybe it's just an anomaly, but it's something I noticed that I thought was worth passing along.
Now, a look at the Top 14's — my semi-arbitrary cutoff in order to capture the most notable — for the position players and pitchers. Full statistics for the team can be found here.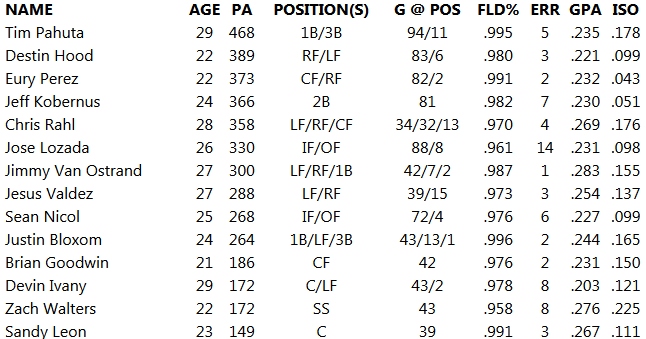 Were it not for the injuries, we might have seen a slight improvement in terms of more plate appearances going to age-appropriate players. Jeff Kobernus, for example, might have gotten the bump to Syracause that went to Zach Walters instead — he was hanging a .306/.355/.341 line in July after struggling for much of May and June. Destin Hood probably would have played the whole year for the Senators, but can we write off both the declines in power and patience to his being hurt?
As it was a year ago, the lack of walks is really striking. Without the likes of Derek Norris, Bill Rhinehart, and Josh Johnson, it's especially noticeable. It's a testament to Brian Goodwin that he led the above group with a 9.7% walk rate and an indictment on the several players that didn't break 7.0%. With another wave of free swingers coming from Potomac (Matt Skole and Anthony Rendon excluded), it's something to watch for in 2013 and beyond.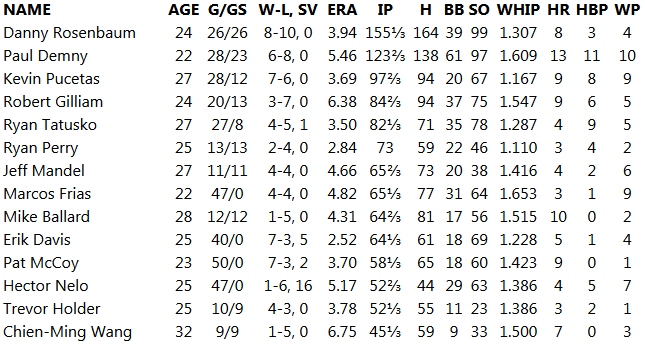 The story of 2012 for the Harrisburg pitchers was Danny Rosenbaum. His overall numbers aren't so bad, but that's a function of arithmetic. After eight starts, he was 5-0 with a 0.62 ERA with six walks, one home run allowed and two complete games, only one of which required more than 100 pitches (109). Halfway through the season (13 starts), he had fallen to 7-2, 1.94 with 13 walks and three HR allowed over 88 innings. After that, the wheels fell off the bus — 1-8 with a 6.54 ERA and a 1.693 WHIP in his final 13 starts.
How much of that is the league adjusting to Rosenbaum and him not adjusting back is up for debate. Pitching coach Paul Menhart offered a clue in this dispatch from Geoff Morrow's Sunday column in early July, noting that a lot stemmed from frustration, which in turn led to pressing, which even the casual observer knows leads to grooved pitches. Morrow would continually note via Twitter during Rosenbaum's starts about how much more hittable he'd become as the season progressed.
As noted above, other age-appropriate pitchers struggled. Paul Demny, who had made 98 starts between April 2009 and July 2012, was moved to the bullpen in August. Robert Gilliam was dropped down to Potomac after failing as both a starter and a reliever. Marcos Frias saw his usage cut in half while his ERA rose nearly two runs before and after the All-Star break — though some of the innings drop may be attributable to Ryan Tatusko, Pat McCoy and Davis, all repeating the level, excelling in middle relief and leaving Frias the odd man out.
OBLIGATORY TOP EIGHT LIST
As much as I hate combining lists, with just two pitchers to list, there's not much else to be done.
On to the caveats… Hood still has time on his side (turns 23 in April), Kobernus doesn't (turns 25 in June); but both are getting the benefit of the doubt due to injury… Rosenbaum is still left-handed, mechanically sound, and durable (76 starts, 6.19 IP per from '10-'12)… There are reports that Demny has a lost a some m.p.h. off his fastball (high 80s vs. low-to-mid 90s) in the AFL, but those are likely to come back with a shift to the bullpen… Bloxom plays a position in which the organization is not deep and can switch-hit… Ryan Perry has already made 156 appearances as a major-leaguer (by definition, a prospect must also be a rookie)… and, of course, Brian Goodwin has already been picked (#1 position player for Hagerstown).
1. Eury Perez
2. Sandy Leon
3. Zach Walters
4. Destin Hood
5. Danny Rosenbuam
6. Paul Demny
7. Jeff Kobernus
8. Justin Bloxom