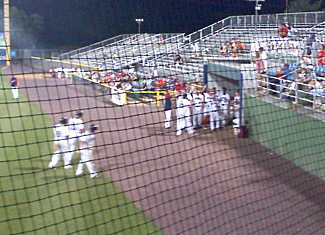 After dropping the continuation from Wednesday by a 5-3 count in 10 innings, a quartet of Nationals pitchers combined for a five-hit, 8-0 shutout of the Salem Red Sox to claim sole possession of first place in the Carolina League's Northern Division.
Nathan Karns got the win, his eighth, with five scoreless innings, which lowered his ERA from 1.84 to 1.70. But at the risk of sounding spoiled, this was not his best outing. This is not the Salem squad that finished the first half 41-28 — no Jackie Bradley Jr. (1.002 OPS), no Travis Shaw (.957).
The unofficial pitch count was 81 pitches, 45 for strikes. Three walks and a hit batsmen over five innings meant just one 1-2-3 inning and more than a couple of prolonged at-bats. The six strikeouts were nice, but Karns could have set down eight or nine against this lineup in five frames (he struck out 11 in seven in June).
Offensively, Potomac got started early for the second straight game. Three straight hits to go up 1-0, a sacrifice fly to go up 2-0, then another single to make it 3-0. With a little hesitation from J.P. Ramirez, it might have been 4-0 as the first ended with Stephen King slicing a double to right field. The two would get it done in the fourth with King ripping a double down the left field line, an error helping Ramirez to score.
As the pic above shows, the P-Nats busted the game wide open in the 8th as Adrian Sanchez singled, Ricky Hague walked, and Kevin Keyes deposited a fat fastball to left for home run #16 and RBIs 56, 57, and 58 (both team-best). Jason Martinson singled and scored on Blake Kelso's RBI double to finish the four-run barrage.
Aaron Barrett followed Karns in the 6th and struck out the first two batters en route to his two goose eggs. Joe Testa worked around a single and a walk in the 8th to put up another zero. Rob Wort gave up a leadoff double to start the ninth then set down the next three, finishing with the strikeout to complete the team shutout.
With the win, Potomac evens its record at 20-20, a frac12; game better than Frederick and Wilmington and a full game better than Lynchburg. Salem did take two-of-three for the first opponent to win a series at the Pfitz since April. Tonight, it's the start of a six-games-in-seven-nights stretch against the current co-leaders of the Southern Division, the Winston-Salem Dash and the Myrtle Beach. Rob Gilliam (0-0, 1.69) makes his second start.