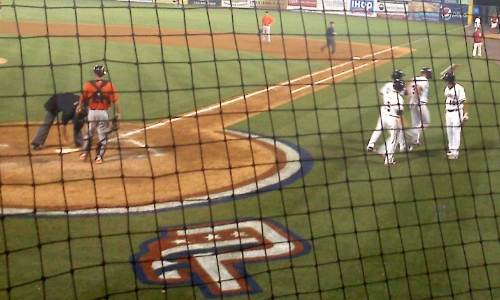 This one was a laugher. With 13 runs in their final three turns at bat, the Potomac Nationals turned a 3-1 deficit into a 14-3 blowout.
To your right, that's David Freitas getting congratulated for the first of his two home runs, a three-run shot in the 6th that put the P-Nats up 4-3.
Two innings later, he stroked a two-run blast that capped a five-run eighth.
It's tempting to get giddy but the reality is that the tables were merely turned. The Keys 'pen let in two inherited runners and gave up 10 runs just like the two and four the Potomac 'pen did the night before. (Hey, that rhymes!)
Until the first Freitas homer, it looked like Frederick was one hit, pitch, or misplay away from doing to Potomac what was done to them. In the 5th, the #8 batter led off with a double. The #9 batter sacrificed but had the bunt turn into a single when pitcher Adam Olbrychowski slipped and fell on his (rhymes with grass). After a steal, it was runners on 2nd and 3rd with nobody out.
But the Keys didn't get the break. Olbrychowski bore down, striking out the #1 batter, inducing a popup to the #2 man, and got Frederick's .326-hitting second baseman to fly out to left. No runs, two hits, two left on. If you're a Frederick fan, you're thinking: "Just one run in that frame, and things might have gone differently."
Olbrychowski earned the win with all three Keys runs allowed on five hits and a walk. He came on in relief of a rehabbing Drew Storen, who started and set down the side in the first on eight pitches: a popup to rehabbing Chad Tracy (0-for-2), a flyout to center, a grounder to second. Jimmy Barthmaier followed with hit and a walk given up in the 7th and 8th innings while Joe Testa pitched a scoreless 9th.
Aside from Freitas's heroics (2-4, 2HR, 5RBI), Rick Hague and Francisco Soriano were both a home run short of the cycle while going 4-for-5 and 3-for-4 respectively.
The series concludes tonight with Robbie Ray (3-5, 5.22) on the hill for Potomac, opposed by Scott Copeland (3-7, 5.99) for Frederick.