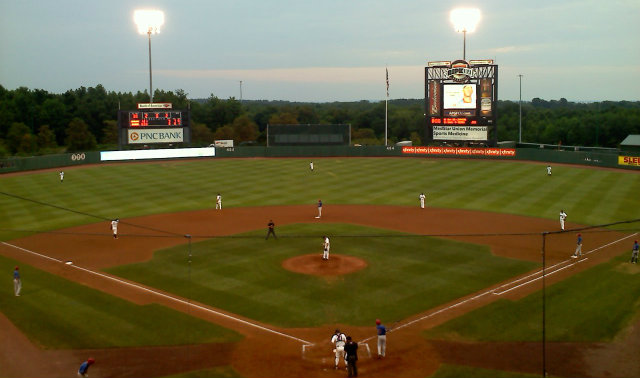 Three Doubledays pitchers combined on a one-hit shutout as Auburn pummeled Aberdeen, 10-0 to complete a three-game sweep.
Nick Lee retired the first nine batters in order before giving up a leadoff single to start the 4th. He quickly erased that baserunner with a nifty 1-3-6-4 pickoff play then finished the inning.
The no-hit bid was an academic exercise by that point as the Doubleday batters were having their way with the Ironbird pitchers, scoring in each of the first four innings and highlighted by Wander Ramos's two-run shot in the second inning.
The game was blown wide open in the 8th and Ramos was once again in the spotlight, reaching base on a disputed HBP call. Mike McQuillan tripled him in with a liner over the centerfielder's head for a triple, with Josh Johnson singling him in, then Shawn Pleffner doubling Johnson in, and following a pitching change, Estarlin Martinez finishing the scoring binge with an RBI single ripped up the middle, too hot for the Ironbird SS to hold on to.
The Doubledays pounded out 15 hits, with every batter reaching base and eight of nine batters hitting safely, with Jordan Poole as the "beer man," though he did draw two walks. Martinez led the hit column with a 3-for-5 night.
Lee lasted six innings, giving up just the one hit and two walks while striking out three. Jack McGeary was the first man out of the bullpen, and worked around a two-out HBP, a stolen base, and a wild pitch by striking out the last of the four batters he faced to preserve the shutout bid.
Cody Davis sealed it by retiring the last six Aberdeen batters in order, striking out the side in the 9th and four overall.
With the win, the Doubledays hit the road and head up I-95 to I-395 to Norwich, CT for three games against the Connecticut Tigers before returning home to Auburn on Tuesday.